The American Cancer Society held its 30th California Spirit fundraiser at Sony Pictures Studio in Culver City on July 19th, 2015.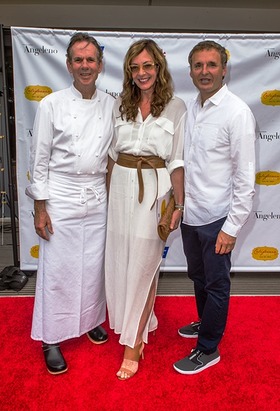 The much-awaited evening featured food from Los Angeles' quintessential bistro Bouchon Beverly Hills with chef/ proprietor Thomas Keller in attendance, hand crafted cocktails created by renowned mixologist Julian Cox, and the opportunity to sample from the kitchens of the newest additions Catch & Release, Redbird, and ICDC. Together with Barrel & Ashes, chi SPACCA, Lemonade, Knuckle & Claw, Picca, Tavern, A Sweet Savory, and wine and spirits from Malibu Vineyards, Mystic Hills Vineyard, The Wine House, Greenbar Distillery, Tito's Handmade Vodka, and LVP Sangria the event provided guests with a taste of the city's finest offerings.
California Spirit 30 was hosted by James Beard Award-winning chef Rocco DiSpirito, and guests included Allison Janney.
Some of the chefs present talked about the drought in California, and how it would affect the produce they cook: "We use a lot of simple vegetables: onions – pretty much everything, tomatoes too," said Picca chef Josh Drew. "And tomatoes are really, really, really water based product, so, you know, the biggest, the biggest loss for us would be tomatoes without a doubt. It's almost the sort of thing we have to have year round."
"Produce is what makes California what it is," added chi SPACCA, Chef Ryan DeNicola. "We wouldn't have all these great restaurants here if it weren't for the great produce we have here and if the drought continues it would be something that we would really lose. You know we would lose a lot of that produce. And especially you can tell a major difference when you buy products from outside California. Not just the actual quality of produce themselves but you can tell it's older, you have to ship it in, it's inefficient."
For more than 100 years, the American Cancer Society has been leading the fight to end cancer. With the generous support from millions of people, the American Cancer Society has been able to translate their research findings into action and by doing so, has seen a 20% decline in US cancer death rates since the early 1990s. The California Spirit 30 fundraiser aims to raise funds to continue to support incredible research that leads to finding a cure for cancer over a spectacular evening filled with fantastic food, wine, and spirits from Los Angeles' renowned chefs, top mixologists and premiere California vintners.