On August 12, 2015 the sold-out crowd at the Bridgestone Arena was brought to a standing ovation when four war heroes were invited onstage and presented with Henry Military Service Tribute Rifles during the Charlie Daniels' 40th Anniversary Volunteer Jam.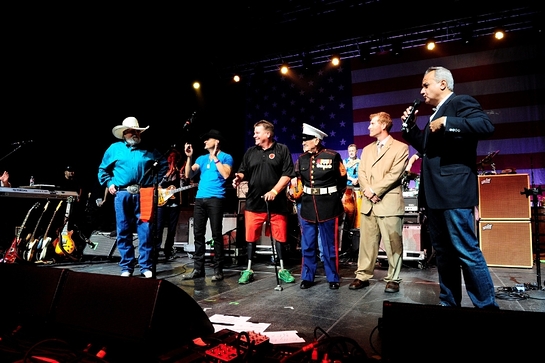 Anthony Imperato, President of Henry Repeating Arms, gifted the rifles to thank the veterans for their heroic contributions to our country. The presentation was made midway through The Charlie Daniels Bands' set, with Charlie standing by. Imperato also presented Charlie Daniels with a customized Henry Golden Boy rifle embellished with the Volunteer Jam logo and an inscription reading 'Presented to Charlie Daniels – Thank you for your patriotism and all that you do for our veterans.'
As lead sponsor Henry Repeating Arms donated $200,000 to The Journey Home Project, the non-profit organization co-founded by Charlie Daniels that connects donors with the veterans' organizations that do the most good in meeting the health care, education and career needs of military servicemen and women and their families.
"We at Henry Repeating Arms are forever indebted to those who have served our country. Although we can never repay these men and women for what they've done for us, these rifles and our donation are a small token of our gratitude," said Imperato.
The honorees were Jack ten Napel, a 95-year-old WW2 Veteran who served in the USMC. Mr. ten Napel survived the bombing of Pearl Harbor and went on to serve on every island in the Pacific. Out of his original outfit of about 400 men, he is one of eight who survived until the end of the war. Scott Schroeder, a Bronze Star and Purple Heart recipient was recognized for serving in the U.S. Army for 26 years. During his final tour in Afghanistan in 2010 Mr. Schroeder lost both legs when his vehicle ran over a pressure plate and was blown up. Sam Schoenheit, a USMC Staff Sergeant was honored for his bravery after being shot in the head during an ambush and later suffering a stroke. Mr. Schoenheit spent the last seven years accomplishing his goals of regaining his speech, ability to walk, expression, and a college degree. Ryan Weaver, a Chief Warrant Officer 3 in the United States Army was recognized for his courage during his deployment in Iraq as a Black Hawk helicopter pilot and for his continued commitment to the military upon his return from combat by training the next generation of Army aviators and officers at Fort Rucker, Alabama. Scott Brown, an Operation Iraqi Freedom Combat Veteran of the USMC who served with Chris Kyle and co-founded the Chris Kyle Memorial Benefit & Auction was presented with a Henry Military Service Tribute rifle on the Henry Rifles Stage in the outdoor plaza during the free show for concert-goers and bystanders.
The colossal concert featured a mega line-up of musicians including surprise guests Eric Church, Lynyrd Skynyrd, Jamey Johnson and Blackberry Smoke; and scheduled performances by Wynonna, Terri Clark, The Charlie Daniels Band, Ted Nugent, Trace Adkins, Alabama, Billy Ray Cyrus, Colt Ford, The Grascals, Lee Greenwood, The Kentucky Headhunters, Tracy Lawrence, The Oak Ridge Boys, Ryan Weaver, Craig Morgan, Lee Roy Parnell, Billy Dean, Michael W. Smith, Travis Tritt, Phil Vassar, Montgomery Gentry and Blackberry Smoke.