GapKids has partnered with ED, Ellen DeGeneres' new lifestyle brand to launch GapKids x ED, a limited edition apparel collection and campaign that encourages girls everywhere to be themselves, do what makes them happy and take pride in who they are.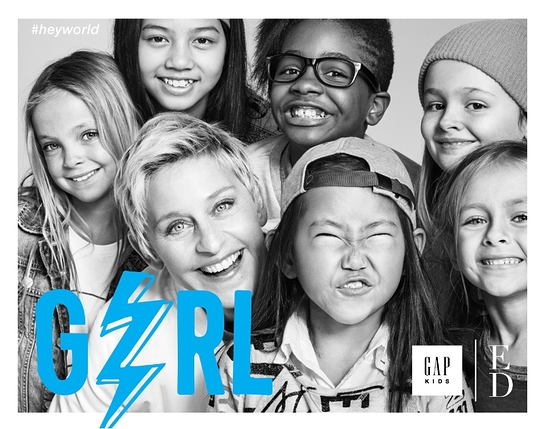 Launching today in over 25 markets around the world, the collection, and supporting campaign, is rooted in the same core values that Gap brand has stood for over the past 45 years. Individualism and liberation that comes from confidently being your most authentic self are core values Gap shares with American comedian, talk show host, producer, writer and actress, Ellen DeGeneres.
The GapKids x ED campaign features six young girls who have excelled at skateboarding, drumming, robotics and entrepreneurialism, by being true to themselves, regardless of naysayers or outdated stereotypes. These girls, Alexey, Relz, Ryann, Bellatreas, Torrae and Asia, ranging in age from 7 to 12, star in the anthem film and campaign images which all provoke a feeling of strength, empowerment and pure enjoyment. Whether it is the desire to help others like Torrae who builds robotic hands for kids who need them or Alexey's love for music and her incredible drumming skills, the campaign celebrates girls of all talents for being who they are. The print ads, which launch in August across the United States, Canada, United Kingdom, China and Japan, as well as select international franchise markets, feature the hero campaign "selfie" image of Ellen with the six girls. In addition to print, the campaign spans outdoor, mobile, direct, social, in store and digital.
Well beyond stores, Gap is aiming to create an environment of positive social engagement. Using the hashtag #heyworld followed by a name, a girl's friend, mother, father or mentor can issue a call to action for social messages of encouragement and love to any girl in need of positive support, cheering her on through the power of positive words. In addition, there will be a texting opportunity to receive inspiring and encouraging messages from Ellen DeGeneres herself.
The GapKids x ED collection is built on Gap's most loved wardrobe staples, but with an impactful twist, for girls and a selection for boys and adults as well. The collection prominently features two pieces of iconography: the lightning bolt, a symbol of empowerment, and the speech bubble, a symbol of self-expression. Both the speech bubble and lightning bolt are inscribed throughout the collection including Graphic T-Shirts for Girl's and Boy's ($24.95), the Girl's Quilted Speech Bubble Bomber Jacket ($49.95), and the Adult Zip-up Sweatshirt ($49.95), among other apparel and accessories. The entire family is invited to join in on the powerful dialogue and celebration of individuality.
"I know from my own experience that nothing makes you feel better than being who you are and celebrating what makes you unique. I think if we shine a light on real girls doing incredible things, that'll encourage other girls and boys to do incredible things," says DeGeneres. "This opportunity to partner with Gap and my new lifestyle brand, ED, is the perfect way to celebrate girls just for being who they are; and to encourage them to unleash their passions; whether it's math, soccer, singing, dancing, or simply singing while dancing in their bedroom."
In keeping with Gap's long term focus on youth culture, and the commitment to supporting social causes that allow women to seek out their full potential, they are partnering with select girls' organizations that share a commitment towards girls and women, including Girls Inc (North America) and CARE (UK & Japan).
Further details on the campaign can be found at Gap.com.