Purina ONE recently announced a partnership with actor Jesse Tyler Ferguson to promote its ONE Difference campaign, which benefits the Petfinder Foundation and celebrates those dedicated to making a positive difference in the lives of dogs.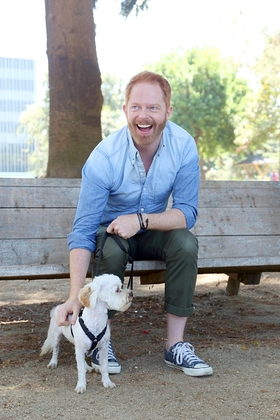 As part of the campaign, the brand recently teamed up with Ferguson and spcaLA to host an event in Santa Monica. Society for the Prevention of Cruelty to Animals Los Angeles (spcaLA) is known for developing the Helping Enhance Animals' Lives (HEAL) program which provides shelter dogs with enrichment activities and basic obedience to help lower their stress and make them better candidates for adoption. During the event, adoptable dogs walked a red carpet, showcased their smarts on stage and charmed attendees from their makeshift green room. Ferguson joined the fun, walking the red carpet with his recently adopted dog, Fennel.
"We're excited to partner with Jesse on the ONE Difference campaign because we share a passion for animal welfare," said Eric Willis, Purina ONE brand director. "Through our work with shelters across the country we provide high-quality nutrition to help dogs look and feel their best as they wait for their forever homes, as well as resources to help change perceptions of shelter dogs and ultimately increase adoptions."
Ferguson, a dog lover and rescue advocate, adopted Fennel, with the help of Purina ONE and Petfinder. The eight month-old Maltese, Poodle mix, with an infectious doggy-smile and endless energy, joins Ferguson's three-year-old Maltese, Yorkie mix, Leaf. Both dogs are currently taking the Purina ONE 28 Day Challenge by switching to Purina ONE SmartBlend, and since switching Ferguson has noticed a remarkable difference in the dog's excitement level for their new food.
"I'm happy to work on the ONE Difference campaign because I think it's a great way to recognize the people out there who are dedicated to making a positive difference for dogs, whether it's volunteering at a shelter or adopting a shelter dog," said Ferguson. "With the help of Purina ONE and Petfinder, we found a wonderful companion and playmate for Leaf, and have noticed a huge change in both dog's energy levels and general health since starting them on Purina ONE."
"It's been great to see Leaf and Fennel take the 28 Day challenge, and realize some of the same great results we've seen from more than 80,000 dogs whose owners have registered and chosen to switch to Purina ONE since the program began," said Willis.
Consumers can learn more about how Purina ONE supports shelters across the country at www.PurinaONE.com/Shelter-Network.
Source: PR Newswire