Prostate Cancer Foundation (PCF), a nonprofit organization which remains steadfast in its commitment to identify and fund groundbreaking cancer research programs to save the lives of millions, hosted its annual gala at the Parrish Art Museum in Watermill, NY on Saturday, August 29, 2015.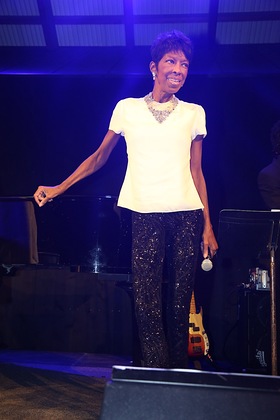 The weekend's events raised over $4 million, which is a record for this event.
The gala was hosted in support of the 11th Annual Charles Evans PCF Pro-Am Tennis Tournament being held from August 28 – 30, 2015, named after the successful entrepreneur who constantly turned tragic events throughout his life into philanthropic causes. The gala evening, catered by Robbins Wolfe, was a celebration featuring cocktails, dining and special performances from Natalie Cole and David Foster with special guests including American Idol Winner Ruben Studdard. 100 percent of the funds raised throughout the evening went to supporting groundbreaking discoveries in cancer research.
The night began with a short quiz by the Founder of the Prostate Cancer Foundation Michael Milken, who asked questions about magic to the crowd of gala guests such as what caused Famous Illusionist Harry Houdini's Death, Peritonitis, and what was the first book of magic called, The Discoverie of Witchcraft (1584). Fellow performer David Foster then introduced the first performer Natalie Cole, with whom he had just wrapped up an Asian tour.
Once she got onto stage, she began her set by telling the audience, "This is going to be one of the shortest sets I ever did, so listen carefully." She began her set with her song "Almost Like Being In Love" and did a couple of covers including Renee Olstead's "What A Difference a Day Makes." Then she performed "Unforgettable," her Grammy award-winning duet with her father Legendary Singer Nat King Cole, which was also the first song she had produced by fellow performer David Foster, which was received with loud applause. As she performed, video of her father singing along to the song played on TVs behind her and were interspersed with images of her and Nat while growing up. She closed her set with her father's famous track "L.O.V.E."
Following Cole's set, Milken discussed the young investigators program and the funding the Prostate Cancer Foundation is doing on their behalf. As he defines them, these young investigators are young scientists in their 30s who have received all of the advanced degrees and research experience to run their own labs, however they lack the funding. It is these investigators, he said, that are leading to groundbreaking advancements in cancer research. Currently, PCF works with 153 of these young investigators who are currently researching 22 candidate molecules for cancer research, and these investigators have impacted the creation of six different FDA- Approved Prostate Cancer drugs. Following the presentation and quiz questions discussing these young investigators, Milken asked gala attendees to pledge $75,000 over the course of three years, then $75,000 for one year and then $25,000 for one year. At the conclusion of the fundraising portion, he said, "next year we will tell you how each of our young investigators changed the world."
After a video introduction, David Foster began his set, during which he invited many of his friends to the stage to perform as he accompanied on the piano, first being Emily West, a runner-up on Reality TV competition show America's Got Talent. She performed a couple of songs including "Nights In White Satin," a song she performed while competing on the show. David Foster & Emily West performed The Prayer, a song David Foster wrote for Celine Dion and Andrea Bocelli, and halfway through the song, David Foster cut her off and said that this is meant to be a duet and introduced Forte, another top competitor on America's Got Talent. Forte participated in a contest to see who could hold the longest note with Foster and Nathan Gunn, a baritone opera singer in the crowd that evening. At the conclusion of Forte's set, Foster brought Shelea Frazier to the stage, who performed two songs from The Bodyguard including a cover of Whitney Houston's rendition of "I Will Always Love You." Halfway through the performance of I Will Always Love You, American Idol winner Ruben Studdard joined them on stage. David Foster said "Ruben Studdard has a talent, he can write a song on the spot. So let's write one for tonight's event." The crowd names the song, "A Cure Is On the Way" and Studdard improvised the words as he sang. The show ended with a group rendition of Hey Jude, then Michael Milken thanked David Foster and asked everyone to go to the other stage. At the other stage, guests danced the night away to Super Diamond, a Neil Diamond cover band.
Weekend hosts and sponsors of the Charles Evans PCF Pro-Am Tournament include: Bill & Karen Ackman; Bob & Deanna Adler; Seth & Marie Bernstein; Jim Coleman & Cynthia Ott; Larry Gagosian & Chrissy Erpf; Bonnie Pfeifer Evans; Jeff & Mei Sze Greene; The Hain Celestial Group, Inc.; Tom Lee & Ann Tenenbaum; David & Julia Koch; Bill & Phyllis Mack ; Richard Merkin, MD.; Mike & Lori Milken; Modell's Sporting Goods; Glenn & Jennifer Myles; Dean Palin; Mickey Palin; Joel Pashcow; Artie & Selma Rabin; Stewart Rahr; Jonathan & Sheryl Sokoloff; Lady Sheila Stable; Leon & Leesa Wagner; Mort Zuckerman.