The Duchess of Cambridge donned a pair of 3D glasses as she tested her powers of concentration during a visit to a leading children's mental health centre last week.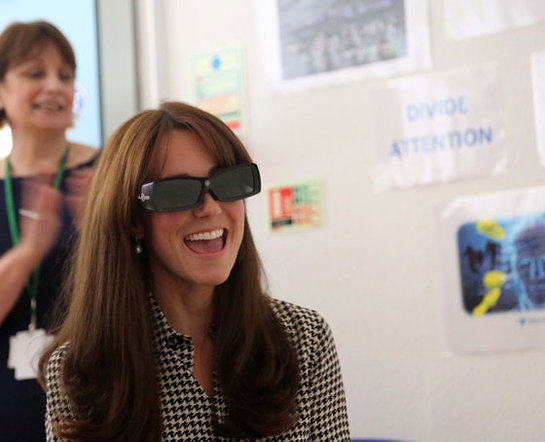 She slipped on the spectacles as she joined 12-year-old Capone in trying to keep track of a tennis ball jumbled up among a group of others in the NeuroTracker game.
Used by athletes to enhance their performance, it is part of the normal routine for pupils attending a school run by the Anna Freud Centre, a leading charity in research, teaching and the provision of care for children and young people with mental health issues.
The Duchess managed to keep track of her ball, as did the young schoolboy sitting by her side, and she looked a little relieved at the end of the test.
Her tour to the centre and its school – both near King's Cross station in central London – will have shone a spotlight on the issue of children's mental health which will be an ongoing area of focus for Her Royal Highess.
The Duchess is particularly interested in supporting early intervention programmes that tackle complex social issues, especially those that provide support to vulnerable families or children to build their resilience to cope with life's challenges from an early age.
Her Royal Highness met parents and their children when she toured the centre's school, now in its second year, and joined in the fun in the SmartGym and also visited a normal classroom.
Pupils are accompanied by a mother, father or other relative who are on hand to provide a stable point of contact for children who may have issues like attention deficit hyperactivity disorder.
The interactive area not only featured the NeuroTracker but a cardio wall where pupils are encouraged to hit coloured lights in a given time period, and another similar game that allows parents to play with their children.
The Duchess of Cambridge tried her hand at this game, joining 12-year-old Kaionel who had taken around the SmartGym, and they took it in turns to wave their hands over the lights as they appeared on a grid in front of them.
She laughed as she tried to reach for the lights but the pair worked well as a team and were told they had not missed any of them.
Parents whose children attend the Anna Freud Centre school are encouraged to join in with aspects of the academic day, and Her Royal Highness visited one classroom where mothers and fathers were reviewing their children's behaviour.
Sitting opposite their son or daughter, they listened as the youngsters evaluated their own actions over the day.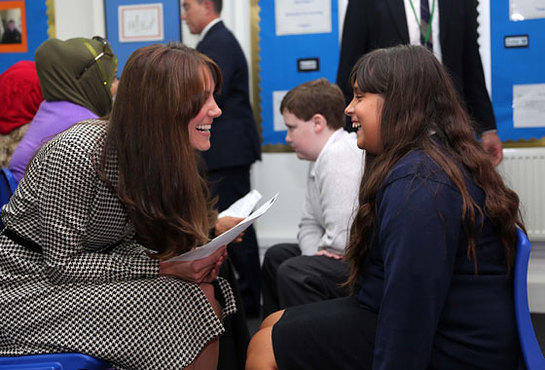 The Duchess of Cambridge sat with Mia, aged 12, who has attention deficit hyperactivity disorder and a condition known as oppositional defiant disorder.
The schoolgirl, who has been attending the school for a year, said afterwards: "I thought she was going to very, very posh but she's actually really, really nice, I didn't expect that.
"Coming here has really helped me with my self control and temper and confidence."
To read more, click here.
Source: DukeAndDuchessOfCambridge.org