More than 400 guests attended the fourth annual Voices on Point gala in Los Angeles on Saturday night to support higher education opportunities for LGBTQ students.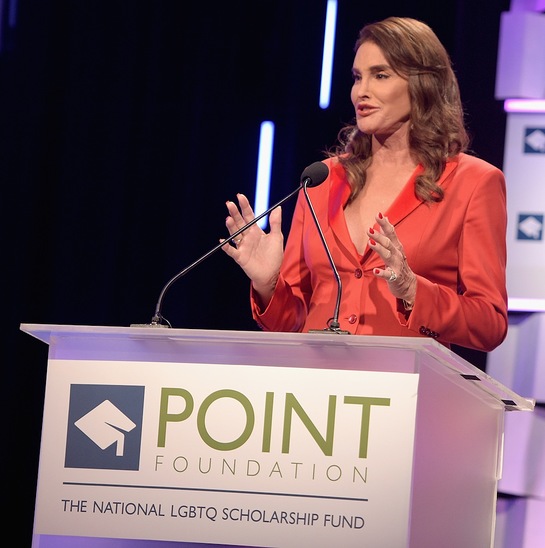 Caitlyn Jenner presented the Point Horizon Award to two Point Alumni, Rhys Ernst, Co-Producer for Amazon's "Transparent," and Zach Zyskowski, Producer on ABC Family and Ryan Seacrest Productions docuseries "Becoming Us," and Producer on CBS' perennial hit "Big Brother."
The evening celebrated the accomplishments of Point Foundation (Point) scholarship recipients, and included musical performances from Grammy Award-nominated singer/songwriter Stacy Barthe, Tony Award winner and star of ABC's Grey's Anatomy, Sara Ramirez, American Idol, Top Five Finalist, Rayvon Owen, and singer/songwriter Joey McIntyre.
The event, held at the Hyatt Regency Century Plaza, was the most successful Voices on Point event to date for Point Foundation, the nation's largest scholarship- granting organization for LGBTQ students of merit.
Celebrity appearances at Point Honors included Amy Landecker; Camryn Magness; Connor Franta; Gavin Macintosh; Greg Louganis; Hayden Byerly; Our Lady J; Ray Santiago; Sherri Saum; Teri Polo; Bradley Whitford; Utkarsh Ambudkar and more.
The program opened with remarks from Teri Polo and Sherri Saum, stars of the ABC Family's groundbreaking series, "The Fosters," which made network television history this season when two characters shared the first teen same-sex kiss. Saum remarked, "While there is still much work to be done on the road to true LGBTQ equality, the Point Scholars and Alumni we will hear from tonight… make crystal clear one very inspiring point – the future of LGBTQ rights is in very good hands."
Five-time Olympic medalist Greg Louganis introduced Caitlyn Jenner, noting that they had last seen each other eight months ago. "But it wasn't until tonight that I had the pleasure of meeting the incredible woman she is today—and she's just as strong, courageous, tenacious, smart and beautiful as ever. "
While presenting Ernst and Zyskowski with The Point Horizon Award — an honor given to inspirational young leaders who have advocated for the LGBTQ community — Caitlyn Jenner commended the two award recipients for their work, "helping to change public perceptions of the trans community and the entire LGBTQ community." In her remarks Jenner referred to the LGBTQ community as "…a big extended family that, thankfully, I have been welcomed into." She continued by saying that she was, "…honored to be presenting the Point Horizon award to two members of her LGBTQ family."
During Zyskowski's acceptance remarks, he spoke of what organizations like Point Foundation mean to the LGBTQ community and particularly to young students. "I wouldn't be making television if Point had not seen promise in me when I was only 16 years old, and at that moment in time, producing television was only a distant dream. I know what it is to feel alone in your own community, to feel that no one loves you for who you are. I want to show a whole generation of people that you are not alone. You can be who you want to be. You can love who you want to love. Any dream is within reach. You are all so very beautiful."
Following Zach's moving remarks, Ernst began his own powerful speech about the support Point provides. "People often ask me how I got to where I am now and how I got involved with 'Transparent.' One way of telling that story is to say 'I was a Point Scholar.'" Noting Jenner's public transition, Ernst concluded, "The trans civil rights movement is underway, but there are huge obstacles still ahead. Trans people need our allies more than ever. I want to thank my supporters, friends, allies, and the continued work of the Point Foundation for building the way to a better future for all."
Throughout the night, other Point scholars and alumni shared their own moving, personal stories, reflecting on Point's ability to empower promising LGBTQ students through financial assistance, mentoring and leadership development programs and opportunities. Since 2001, Point has invested more than $18 million in the education and support of Point Scholars.
"The feelings of friendship and support that surround us here tonight are what we hope to bring to more LGBTQ students," said Jorge Valencia, Executive Director and Chief Executive Officer of Point Foundation said, "We are so grateful that a new member of our community — Caitlyn Jenner — joined us to recognize the challenging journey and inspirational accomplishments of Point Scholars and so many LGBTQ students."
A number of Point's 85 current scholars and some of the Foundation's 214 alumni joined celebrities onstage and shared with the audience their inspiring stories about the challenges overcome in pursuit of a higher education degree.
HBO and Wells Fargo served as the Presenting Sponsors for Voices on Point. Hilton Worldwide served as Premier Sponsor. Principal sponsors included Lowenstein Sandler, Time Warner, and Toyota Financial Services. The Advocate served as the National Media Sponsor, and Frontiers L.A. served as the Local Media Sponsor. Friends of Point supporting the evening included Barefoot Wine.