Calling on women to "stand together and work together," Patricia Arquette told attendees at the 16th annual Texas Conference for Women that "we have a chance, after more than two centuries, to finally gain equality for women once and for all."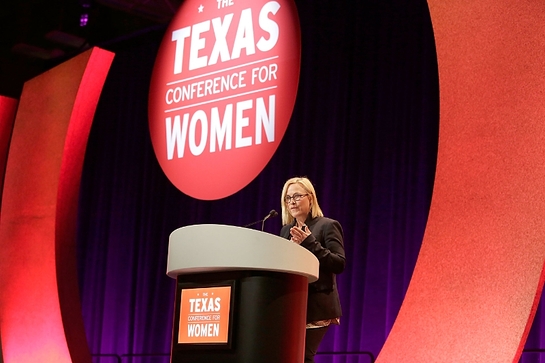 Speaking to a sold-out audience of 7000, Arquette, an activist and Academy Award winning actress for her performance in "Boyhood," issued an urgent call for passage of the Equal Rights Amendment and for gender wage equality – a topic she raised in her 2015 Academy Award acceptance speech.
"If women were paid dollar for dollar what their white male counterparts are, 33 million women and children living in poverty in the USA would no longer be," Arquette said. "Anyone who understands economics will understand this as the huge opportunity it is."
Conference attendees also heard keynotes from Candy Chang, TED fellow, urban space designer and artist, and Bert Jacobs, co-founder and chief executive optimist of the Life is Good Company, and Robin Roberts, Good Morning America co-anchor.
"When your passion becomes your purpose wonderful things happen," Roberts told her Good Morning America colleague Tory Johnson in a conversation about faith, family and resilience after facing two life threatening illnesses.
The nonpartisan, nonprofit conference is the largest personal and professional networking event for women in Texas, featuring more than 100 speakers. Industry and thought leaders from across the country led breakout sessions on topics including leadership, career advancement, personal branding, social media, health and wellness, finance, and more. Conference attendees participated in the popular Career Pavilion where they received resume reviews by human resource experts and had one-on-one "speed coaching" sessions with coaches from the Austin Chapter of the International Coach Federation and Texas Women in Business.
"Today's Conference demonstrated for thousands of women the power of coming together to encourage and educate each other," said Johnita Jones, Board President of the Texas Conference for Women. "I am confident that after being inspired by today's speakers, more women than ever will have the confidence and the tools they need to create success on their own terms, whether in their personal or professional lives."
This year, attendees took advantage of exciting new offerings including the Small Business Marketplace, where participants made product pitches on the VistaPrint stage to Tory Johnson, of Good Morning America's "Deals and Steals," as well as marketing workshops and one-on-one business counseling. Also new this year was the Music Stage, featuring up and coming female artists in the Austin area. The United Healthcare Community Connection Pavilion provided a special opportunity to connect and volunteer for Texas charities or make a blanket for Meals on Wheels recipients.
The Texas Conference for Women is supported by a number of generous sponsors including Cisco; Dell; United Airlines; United Healthcare; Mercer;­­ Akamai; Phillips 66; Shell; Liberty Mutual Insurance; Vistaprint; HEB; Accenture; ExxonMobil; Home Away; Intel; Triple-A-Texas; Rackspace; MasterCard; NFP; Hologic; Time Warner Cable; Walgreens; Cancer Treatment Centers of America; Texas Beverage Association; CVS Health; Mary Kay; Morgan Stanley; USAA; Austin Monthly; State Street; Austin Woman; Clear Channel Outdoor; Statesman Media; KVUE ABC; iHeart Media; and The Texas Tribune.
"Cisco is proud to support this community of Texas women who are making a valuable investment in their futures and in their communities," said Gayle Morris, Vice President of Americas Sales for Cisco. "The Conference demonstrated yet again the value of women inspiring and challenging one another. We applaud the Conference on another successful year."
To learn more about the 16th annual Texas Conference for Women, visit their website at www.txconferenceforwomen.org.