The first man to complete a non-stop balloon flight around the world and the visionary behind the only airplane capable of flying day and night without a drop of fuel, Switzerland's Bertrand Piccard was designated last week the United Nations Environment Programme (UNEP) Goodwill Ambassador.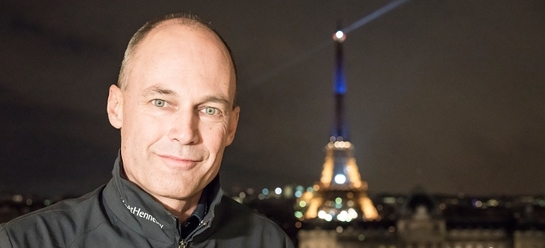 Dr. Piccard received his designation during a ceremony at the Musée de l'Homme in Paris. The Swiss Explorer is in France for the COP 21 conference where he is advocating for an ambitious climate change agreement and a higher uptake of renewable energy.
To bring the world's attention to the potential of solar energy, he has undertaken earlier this year a seemingly impossible challenge – flying around the world in an exclusively sun-powered airplane. Together with André Borschberg Co-founder, CEO and the other Solar Impulse pilot, they have already covered 19,957 kilometres between Abu Dhabi and Hawaii. The most recent leg of their solar journey saw Mr. Borschberg break the world record for longest-ever non-stop flight.
UNEP Executive Director Achim Steiner said: "In creating the Solar Impulse Foundation Bertrand Piccard has demonstrated how innovation and clean technologies are crucial to a sustainable future. More than this, he and his fellow pilot André Borschberg have shown we are already living in that future.
"When Bertrand's plane takes off again from Hawaii, people of the world will live the adventure alongside him. As Goodwill Ambassador for the United Nations Environment Programme, every hour of his flight and preparations will be an opportunity for him and the Solar Impulse team to bring those people closer to a vision UNEP has advocated and supported in our work for many years."
Bertrand Piccard said: "This designation is an encouragement to continue showing how many incredible things can be done with renewable energies, but also to implement more energy efficient technologies in our world."
Dubbed the Inspioneer after having circumnavigated the globe in a hot-air balloon in 1999, Bertrand Piccard has inspired tens of thousands of followers with his adventures and with his message – Future is Clean. His efforts to promote renewable energy were acknowledged by UNEP already in 2012 when he received the prestigious Champion of the Earth award.
In his capacity as UNEP Goodwill Ambassador, he will leverage his popularity to convince the world's policy-makers, entrepreneurs and communities that a carbon-neutral world is not any less possible than flying around the world without fuel. He will also use the remaining stages of his solar journey to engage with children and youth, inviting them to see the Solar Impulse 2 up close and raising their awareness of efficient energy consumption.
A recent report by UNEP-Frankfurt School Collaborating Centre and Bloomberg New Energy Finance estimated that at the current pace of renewable energy uptake – around 0.7 per cent annually – it will take until 2030 to reach the 20 per cent goal of global electricity generation from renewables. By proving that solar power is a viable, sustainable source of energy, Bertrand Piccard aims to speed up that progress, making a great contribution to cutting the world's greenhouse gas emissions.
Bertrand Piccard's pioneering spirit and his environmental activism are rooted in his family tradition. His grandfather, Auguste Piccard, was the inventor of the pressurized cabin and the bathyscaph, and the first man to reach the stratosphere. Bertrand's father, Jacques was the first person to reach the deepest point of the global ocean. Both were also pioneers of environmental protection, with Jacques establishing the Foundation for the Study and Protection of Seas and Lakes back in the 1960s.
The Goodwill Ambassador designation took place at the Musée de'l Homme in Paris against the backdrop of a unique photography exhibition on climate action, entitled We Have the Power, We Are the Change , by world renowned Magnum Photographers. The event was also attended by the Grammy Award winning singer, song-writer Angélique Kidjo – UNICEF Goodwill Ambassador and UNEP's Champion of the Earth award laureate of 2011.
Guests were treated to dishes made from food saved from being wasted by the Food Recovery Organization – Feedback. They were also invited to Smog Tasting by the World Health Organization, which had prepared meringue desserts exposed to the pollution levels of different cities to highlight the human health implications of poor air quality.