On Wednesday evening, December 16, Cablevision Systems Corporation, The Madison Square Garden Company, and AMC Networks hosted the 15th annual Holiday Rock & Roll Bash to benefit The Lustgarten Foundation, the nation's largest private nonprofit funder of pancreatic cancer research.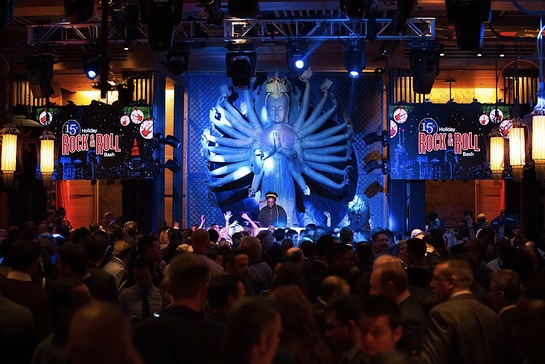 Held at TAO Downtown in New York City, the event raised more than $2 million for the second consecutive year. Due to the support of Cablevision, 100 percent of every dollar raised goes directly to pancreatic cancer research.
Entertainment for the event included a special performance by DJ Questlove, popular drummer of The Roots (house band for The Tonight Show Starring Jimmy Fallon), along with an exclusive Radio City Christmas Spectacular performance by the world-famous Rockettes. More than 1,000 guests attended this year's Bash.
"Marking its 15th anniversary this year, the Holiday Rock & Roll Bash is a beloved annual tradition that unites us all for an important cause: to beat pancreatic cancer," said Kerri Kaplan, executive director and chief operating officer of The Lustgarten Foundation. "Since it was created, the Bash has raised $21 million for research, and we are so grateful to our many generous supporters. As a result of Cablevision's financial support, all of the money raised for the Bash goes directly to research to develop an early detection test and more effective treatments so that patients can live longer lives."
During the program, James Dolan, chief executive of Cablevision and executive chairman of The Madison Square Garden Company, welcomed guests, along with Andrew and Jessica Lustgarten, the children of Marc Lustgarten, who paid homage to their father's legacy. James Dolan and Cablevision Chairman Charles Dolan helped establish The Lustgarten Foundation in 1998 in honor of Mr. Lustgarten, who served as the former vice chairman of Cablevision and chairman of Madison Square Garden before he died from pancreatic cancer. Cablevision has worked closely with the Foundation throughout its history in support of its mission to advance pancreatic cancer research. That support includes underwriting the Foundation's administrative expenses and partnering with the Foundation for the curePC public awareness campaign.
Pancreatic cancer is swift and silent, often undetected until it is too late. The overall five-year survival rate for pancreatic cancer is seven percent and most with advanced cancer die within a year. There are no early detection tests, no effective long-term treatments and, unless the cancer is surgically removed in its earliest stages, no cure. It is the fourth-leading cause of cancer deaths in the United States.
Since its inception, The Lustgarten Foundation has contributed more than $110 million toward pancreatic cancer research. Recent research progress funded by the Foundation includes international clinical trials with patients to develop a routine early detection test, as well as trials to identify new drug combinations and immunotherapies that would more effectively treat the disease. In addition, at The Lustgarten Foundation's Pancreatic Cancer Research Lab at Cold Spring Harbor Laboratory, Dr. David Tuveson, research director of The Lustgarten Foundation, has developed a new human culture system for pancreatic cancer that offers a path to personalized treatment approaches in the future.
Visit curePC.org to learn more about The Lustgarten Foundation and Cablevision's fight to defeat pancreatic cancer.