The Mohammed bin Rashid Al Maktoum Global Initiatives and the Bill and Melinda Gates Foundation have launched a global thought leadership platform to help frame and stimulate regional and global debate on vital development issues shaping the Middle East.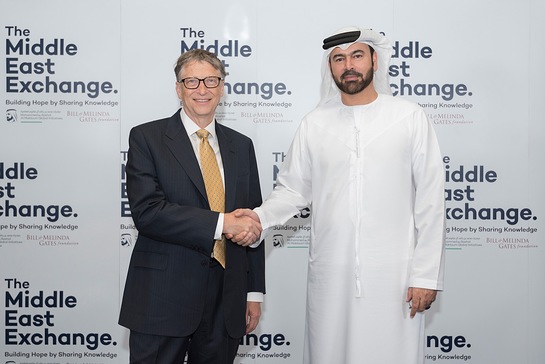 The "Middle East Exchange" will commission original articles from international experts including Nobel laureates, heads of state, academics and intellectuals. New articles will be published weekly in newspapers globally on a wide range of topics relevant to the region, from health and education to development and innovation.
UAE Minister of Cabinet Affairs His Excellency Mohammed Al Gergawi discussed the project at a meeting with Bill Gates, Co-Chair of the Bill & Melinda Gates Foundation, in Abu Dhabi on December 6.
Speaking after the meeting, H.E. Al Gergawi said: "The Middle East has spent too long in the global spotlight as a source of conflict and trouble. His Highness Sheikh Mohammed bin Rashid's vision is for innovative and tangible solutions that benefit people's lives on the ground. There is a huge appetite for practical ideas. The Middle East Exchange will be the number one global platform for positive voices and ideas for the Middle East."
Mr Gates commented: "It's great that our foundation has been working with His Highness Sheikh Mohammed bin Rashid's team and Project Syndicate to launch the Middle East Exchange. This is an exciting platform to raise awareness, encourage debate, and promote local solutions to development challenges facing the wider region."
The project is funded by the Mohammed bin Rashid Al Maktoum Global Initiatives, the philanthropic and humanitarian foundation of H.H. Sheikh Mohammed, Vice President and Prime Minister of the UAE and Ruler of Dubai. The Bill & Melinda Gates Foundation will contribute articles and intellectual support through its global network of development experts.
The Middle East Exchange will be managed as an independent editorial operation by Project Syndicate, a global non-profit dedicated to distributing progressive editorial content. Project Syndicate will translate all articles into at least 12 languages and distribute them to its 468 member publications, who have 300 million readers in 154 countries. Contributors to Project Syndicate include 45 Nobel laureates and 111 heads of state.
The Middle East Exchange will focus on human development, innovation, public health, education, tolerance, sustainability, poverty, youth, skills, employment, entrepreneurship, food, water, and other shared priorities.
The series is being launched with globally syndicated articles by Bill Gates, former UK Prime Minster Gordon Brown, and economist Jeffrey Sachs.