Play STAGE RUSH: Imagine Dragons as your favorite Imagine Dragons band member and help families fight pediatric cancer.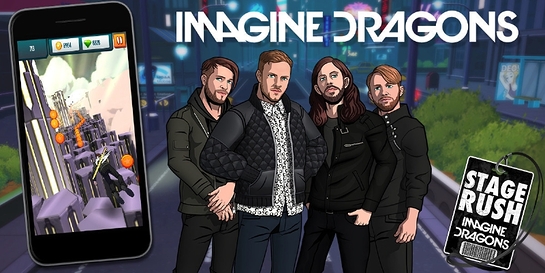 Created by mobile game publisher Zig Zag Zoom, this fun and fast-paced endless runner game launched today on iOS and Android. In STAGE RUSH: Imagine Dragons, you run as a member of the band to the beats of their hit songs, weaving your way through the streets of their hometown Las Vegas and the enchanting streets of Paris.
For every $1.99 download purchase, $1 will be donated to Imagine Dragons' foundation, the Tyler Robinson Foundation, during the first month of release. The Tyler Robinson Foundation was created by Imagine Dragons and Tyler Robinson's family in 2015 to help families deal with the financial and emotional costs of childhood cancer. The more games downloaded, the more money will go to TRF. After the first month, 25% of the revenue from a game download will got to TRF.
Here is what Imagine Dragons had to say: "The ability to incorporate meaningful charitable components in ordinary, everyday activities and purchases is something the younger generation appreciates like no other. We teamed up with Zig Zag Zoom to bring that giving spirit to mobile gaming, an area not really explored in the past. The game is a blast, but we're even more excited about the money it will raise to rescue pediatric cancer families by way of our charity, the Tyler Robinson Foundation."
To download the game or find out more, click here.