Actor Ben Stiller has spoken of his support for refugees following moving meetings in Berlin, Germany, with families forced to flee conflict and persecution in Syria and Iraq.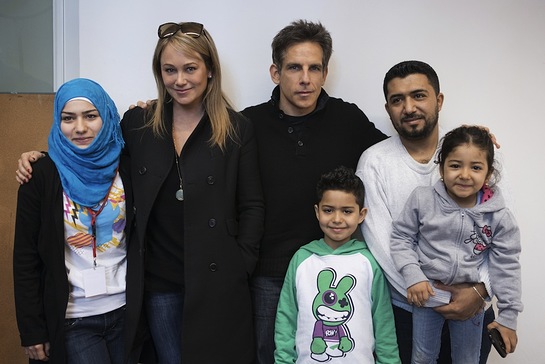 Ben's private briefing, organised by UNHCR, the UN Refugee Agency, brought him face to face with three families who had lost everything because of war. With their livelihoods lost, their homes bombed, and their children unable to go to school, they had all made the difficult decision to make the perilous sea crossing to Europe in search of safety.
Accompanied by his wife Christine, he talked with young couple Dalal and Najemaldeen, who made the dangerous journey only one month after Dalal had given birth to twin girls. Carrying only clothes and milk for the children, they fled their home town of Mosul in Iraq, eventually finding safety in Berlin.
Nahed and Hassan shared a similarly harrowing story, describing the bombings that destroyed their home and businesses, and meant their children could not go to school. Nahed described the terror at being separated from her two young children, Mohamed (8) and Mayaar (5),on the tiny boat which took them across the Aegean Sea to Greece. But her resilience shone through as she explained her hopes for the future, and her determination to learn German and build a new life for the family.
Ben also met with Nadia and Ahmed, whose sole goal was to keep their 11 year-old son Moustafa safe, and to get him back into education to preserve his future.
"Just meeting these families immediately put a human face on this issue. These people have a lot in common with all of us. They are hard-working and educated and really just want the best for their kids' futures," Ben reflected. "I can't imagine having to risk my child's life on such a dangerous journey just because there are no legal routes to reach safety. Despite having lost everything, they spoke with great dignity and showed us great hospitality. People like Nahed, Dalal and Moustafa are the innocent victims of conflict and really need our support."
UNHCR briefed Ben on the wider Syria crisis including its humanitarian operations within Syria, in neighbouring countries, and in Europe. "It's clear there are many challenges in meeting the needs of so many arrivals, but Germany has shown humanitarian leadership in providing a safe haven for people fleeing the world's conflict zones. Both in Europe and the Middle East, agencies like UNHCR are doing a tough job with limited resources. It's important to continue to shine a spotlight on the human impact of displacement, and on the urgent need to support UNHCR in its vital life-saving work."
You can learn more about Ben's visit here.