More than six hundred business leaders attended The Prince's Trust and EMC Leadership Dinner on 28 January 2016 to raise over £580,000.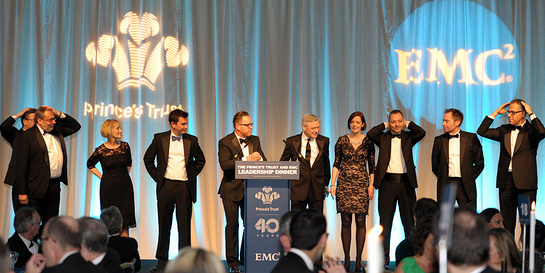 Hosted by Channel 4's Jon Snow, a long-standing Trust Ambassador, and featuring a fascinating Q&A with Elon Musk, CEO of SpaceX and Tesla, the event united business leaders as part of The Trust's 40th anniversary celebrations and raised £580,000.
Elon shared his views on the importance of sustainable energy, the possibility of developing a city on Mars, and his future ambitions including creating a supersonic airplane.
The event also promoted The Prince's Trust bespoke cycle ride, Palace to Palace, and fundraising challenge Million Makers, which sees teams of employees competing across the UK to raise funds by implementing their own mini enterprise projects. 880 riders are already confirmed to join us for the Palace to Palace bike ride and 12 teams have been confirmed to participate in the Million Makers competition.
Tara Leathers, Director of Fundraising at The Prince's Trust, said: "We are incredibly grateful for the support of our business leaders and their workforce, who help raise vital funds for The Trust and give up their precious time to volunteer with our young people. Many of those who attended the dinner are representatives of our Leadership Groups, which bring together business leaders from a range of industries to raise money for The Trust.
"This was the perfect way to kick start The Prince's Trust's 40th anniversary with our business community. We raised a record amount at the Dinner, and I would like to thank all those guests that helped make the evening such a success."
Taking place at the London Hilton on Park Lane, guests also heard from a Young Ambassador, Umar Saeed, who overcame a traumatic childhood to secure a job as a care worker and a future of which he is proud.
Umar received a standing ovation from the audience, and said:
"Thank you so much to all the businesses who have supported The Prince's Trust. Without your help, I wouldn't have had the chance to succeed; if your mind can perceive it and your body can achieve it, then you're halfway there. All you need to do is believe it."
Throughout the evening, guests also had the opportunity to admire two Tesla Model S cars on display and participate in a silent auction, with exclusive lots including a luxury Cunard transatlantic cruise and an exclusive tour of Pinewood Studios.
The Leadership Dinner, which demonstrates a collaborative approach to fundraising by Prince's Trust Leadership Groups, has now raised more than £2.5 million for The Trust since 2010.