Here's your chance to meet Sophie Turner at the premiere of X-Men: Dark Phoenix.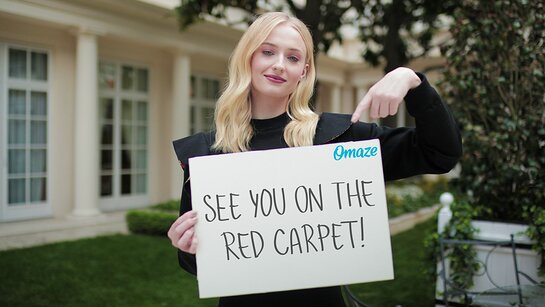 A new charity contest from omaze.com is giving you the chance to meet Sophie, attend the premiere and go to a special taping of Jimmy Kimmel Live! All you have to do is donate to charity. The more you donate, the more chances you have to win.
You and a friend will join Sophie Turner and the rest of the super talented X-Men cast in Los Angeles for the world premiere of Dark Phoenix. You'll hang with Sophie and co. on the red carpet, snap some extraordinary selfies, then watch Jean Grey rise as Dark Phoenix on the big screen. But the action doesn't stop there: You'll also join the cast at a taping of Jimmy Kimmel Live!
Donations will be split between four charities:
RainCatcher brings clean, safe drinking water to impoverished regions around the world. They directly fund sustainable rainwater catchment, harvesting and storage solutions. Your donation will help provide roof catchment facilities for schools, water storage tanks and foundations, water filters, buckets, and portable rain catching equipment.
Women for Women International supports women who live in some of the world's most dangerous places. Their year-long training program teaches women survivors of war how to earn and save money, improve their family's health, and make their voices heard at home and in their community. These remarkable women graduate with the skills and knowledge they need to rebuild their lives and create sustainable change for their families and communities. Together we can change the world, one woman at a time.
Venice Family Clinic's mission is to provide quality primary health care to people in need. With a network of 12 sites and street outreach teams serving the homeless population, Venice Family Clinic serves as the medical home for people who might otherwise go without critically needed health care services. Your donation will ensure that thousands of individuals in Los Angeles have a place to turn for their health care needs, regardless of their income, immigration or insurance status.
The Prince's Trust helps young people develop the confidence and skills they need to realize their ambitions, so that they can live, learn and earn. Founded by The Prince of Wales in 1976, the charity supports youth who are unemployed, struggling at school and at risk of exclusion. Your donation will help The Prince's Trust get closer to achieving its vision of helping all young people fulfill their potential.
To find out more, visit omaze.com here.