Earlier this week, the International Fund For Animal Welfare (IFAW) and the Wildlife Trust of India welcomed the Duke and Duchess of Cambridge to the Center for Wildlife Rehabilitation and Conservation (CWRC), where they witnessed first-hand orphaned Asian elephants and rhinos and other injured wildlife and met the dedicated staff that rescue and care for these animals.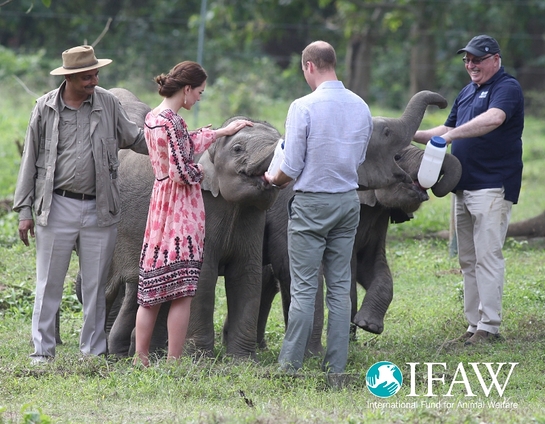 "We are delighted that their Royal Highnesses made time in their busy tour schedule to visit the IFAW- WTI center and meet staff and the animals under care," said Azzedine Downes, IFAW President and CEO. "With elephants and rhinos in particular facing an uncertain future due to habitat loss, human conflict and poaching, IFAW is pleased that the Duke and Duchess are able to raise public awareness of these threats to an international audience."
The Center for Wildlife Rehabilitation and Conservation (CWRC) is the leading wildlife rehabilitation facility in India and is a joint effort of the Wildlife Trust of India (WTI), the International Fund for Animal Welfare (IFAW) and the Assam Forest Department (AFD).
At the center, the Royal couple were escorted by Vivek Menon, Senior Advisor at IFAW and Executive Director of WTI, Mr. Downes, the Center Manager, Rathin Burman, and veterinarian Dr. Panjit Basumatary. The Duke and Duchess fed and walked with elephant calves, met their keepers, and viewed a wide range of rescued wildlife including baby rhinos.
CWRC has pioneered wildlife rescue, rehabilitation and release in India. Since opening in 2002, the CWRC has saved more than 1,600 animals and achieved a number of notable firsts, including the first documented release of hand-reared clouded leopards, first documented reintegration of orphaned Asian elephant calves into a wild herd, and in 2013, three hand-reared, endangered female rhinos gave birth to calves after release into Manas National Park.
"India's biodiversity is a global treasure, and every rescued animal that we successfully rehabilitate and release helps rebuild endangered wild populations," said Mr. Menon. "We are proud to share all that the center staff have accomplished with the Duke and Duchess, and grateful that the Royal couple is using their influence to share it with the world."