Staples, Inc. is once again joining forces with global pop music superstar Katy Perry to help teachers bring learning to life for students during the back-to-school season.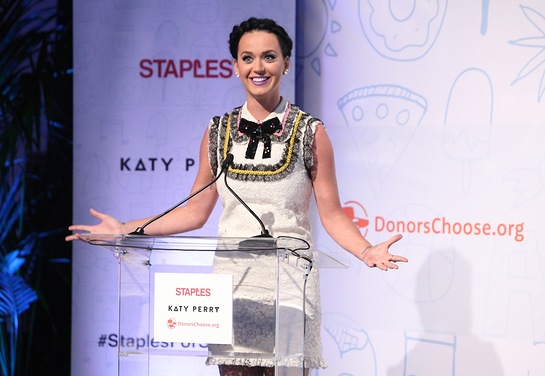 Continuing its long-standing commitment to supporting education through the Staples for Students program, Staples is donating $1 million to DonorsChoose.org, a charity that has funded more than 700,000 classroom projects for teachers and has positively affected more than 18 million students across the country.
"Knowing the crucial role that teachers play in bringing learning to life for students, Staples is committed to supporting DonorsChoose.org to help teachers succeed and impact the future of children," said Alison Corcoran, senior vice president of North American stores and online marketing, Staples. "Katy Perry's powerful and influential voice will highlight the effect teachers have on our children's lives and the need to support classrooms. Our $1 million donation will help teachers make more happen in classrooms across the country and contribute to a fulfilling learning experience."
Katy Perry said, "The response from my fans when I teamed up with Staples in 2014 for The Prismatic World Tour was eye-opening. I learned firsthand how desperately teachers need our support – many of them even dig into their own pockets to provide simple tools that we would expect to already be available in our classrooms. So when Staples approached me again this year, I jumped at the opportunity because I saw the lasting effect our collaboration had on DonorsChoose.org and thousands of teachers and students. I believe in education as a foundation for a great life. I'm continuing my education now as I travel the world, but I didn't have that foundation in my own childhood, so I want to make sure that students across the country are inspired by their teachers and afforded every opportunity to realize their dreams."
Driven by a staggering statistic from the Education Market Association that an estimated 99.5% of all public school teachers use their own money to equip their classrooms – frequently at a cost of more than $400 per year – Staples takes great pride in helping to alleviate some of the pressure placed upon teachers. Katy Perry and Staples will also collaborate to create a Public Service Announcement that will debut nationwide in June, further increasing visibility around the need to help teachers.
"We're so thankful for the continued, and incredibly generous, support from Staples and its loyal customers, which has helped bring classroom dreams to life for thousands of teachers and students," said Charles Best, founder of DonorsChoose.org. "We're also delighted to have Katy Perry lending her voice, calling on the public to help classrooms in need in communities nationwide."
Learn more about Katy Perry teaming up with Staples to help teachers and classrooms at StaplesforStudents.org.
Win a $50,000 scholarship and the chance to meet Katy Perry
Starting June 26, fans will have the opportunity to enter the 'Staples for Students' Sweepstakes for a chance to win a $50,000 scholarship. The grand prize winner – in addition to four lucky first prize winners and one guest each – will also win travel to Los Angeles, where they'll attend an exclusive VIP Winners Celebration with Katy Perry.
Visit staples.com/staplesforstudents starting June 26 to learn about entry into the sweepstakes and for the rules. Entries must be submitted before September 10, 2016 at 11:59 PM ET and entrants must be 13 years or older.