Housing Works celebrated another successful year of its popular annual interior design event, Design on a Dime, and awards dinner, the Groundbreaker Awards, raising $1.2 million to provide supportive services and housing to New Yorkers living with and affected by HIV/AIDS and homelessness.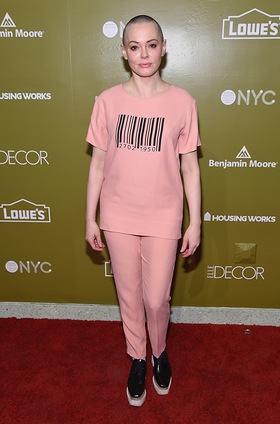 The events kicked off April 20th at the Groundbreaker Awards, which can be seen here.
The Design on a Dime Opening Night Reception followed on April 21st, where nearly 1,300 attendees came together to get first access at shopping the inspirational room vignettes created by more than 68 of the world's top interior designers, including 513 Design Studio, Carl Barnett Design/Studio, Kureck Jones, Shawn Henderson Interior Design Studio, Willey Design and Christopher Maya Inc. Guests also shopped for new high-end merchandise discounted up to 80 percent off retail prices from brands including Urban Furniture, Davide Art, Uhuru Design, WICZNY Furniture and Interiors, RedNoir and The Art of Alex. Actor Billy Eichner kicked off the sale, ringing the opening night bell. The Opening Night Reception was followed by 2 days of public sale.
Also in attendance were Rose McGowan, Adrienne Moore, ELLE DECOR editor-in-chief Michael Boodro, Alessandra Branca, Marisol Deluna, Nicole Gibbons, Marjorie Gubelmann, Douglas Friedman, Ken Fulk, James 'Ford' Huniford (Founding Chair of Design on a Dime), Charles King (CEO of Housing Works), George and Zoe Oliphant, Miles Redd, Lynn Whitfield and more.
Design on a Dime was founded in New York City in 2004 by Designer James Huniford. At the time, the event included seven interior designers and took place at Housing Works' Gramercy Thrift Shop. Now, its 12th year, the national event has grown to include more than 100 top interior designers and attracts more than 5,000 guests annually. 2015 marked the benefits' most successful year, raising a record-breaking $1.3 million which was followed by the inaugural Design on a Dime Miami in early 2016, taking the event national for the first time. Since inception the event has raised more than $10 million for the organization's mission.
James Huniford is the Founding Chair of Design on a Dime. This year's Co-Chairs were Alessandra Branca, Michael Boodro, Nicole Gibbons, George Oliphant, Marisa Tomei and Social Chair Douglas Friedman.
Support for Design on a Dime was provided by ELLE DECOR, Lowe's, Benjamin Moore, Chateau D'esclans, Whispering Angel, Hendrick's Gin, Milagro Tequila, AirSea Packing, Gilead Sciences, Inc., Viacom and the New York Design Center (200 Lex).
Support for the Groundbreaker Awards was provided by ELLE DECOR, Chateau D'Esclans, Double Cross Vodka, Whispering Angel, Playmates Toys and DRAKE/ANDERSON.
Housing Works is a New York-based organization that provides supportive services and stable housing to the homeless and individuals living with and affected by HIV/AIDS. The non-profit works with advocacy offices across the country and abroad to fight for funding and legislation to ensure all people living with HIV/AIDS have access to quality housing, healthcare, prevention information and other life-sustaining services.
For more information on Housing Works and their initiatives throughout the year, visit www.housingworks.org.