Last week, guests gathered at Manhattan Center's Hammerstein Ballroom for the We Are Family Foundation's 2016 Celebration Gala.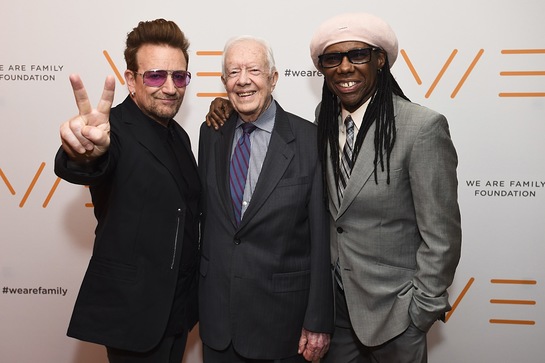 The evening, hosted by Soledad O'Brien, honored Bono with the Humanitarian Award and President Jimmy Carter with the Mattie J.T. Stepanek Award. Adobe Project 1324 received this year's Visionary Award. The event included a special performance by Nile Rodgers & CHIC and Bono.
The We Are Family Foundation co-founded by Nile Rodgers and Nancy Hunt, is a non-profit organization dedicated to the vision of a global family by creating and supporting programs that promote cultural diversity while nurturing and mentoring the visions, talents and ideas of young people who are positively changing the world.
Additional attendees included Alber Elbaz, Eric Buterbaugh, Sandra Lee, Bill McDermott, Lois Robbins, Rosanna Scotto, Kathy Sledge, and Marlo Thomas among others.