Amgen has announced the launch of the Breakaway from Heart Disease campaign to help make heart health a priority.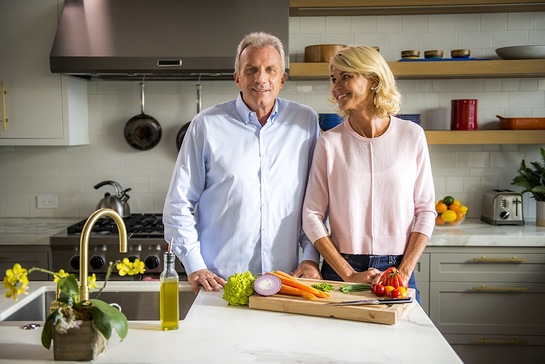 Hall of Fame quarterback Joe Montana, the American Heart Association and Schwinn are joining forces with Amgen to urge Americans to learn more about their family history of heart disease and get active through cycling. Montana wants others to take charge of their heart health and make meaningful lifestyle changes – just like his family did.
As a former professional athlete and a father of four, staying active and living a healthy lifestyle is important to Montana and his wife, Jennifer. Heart disease runs in Montana's family, and Jennifer's father passed away from a heart attack at the age of 60. But, Montana didn't know just how much his family history could impact his own heart health.
"Being a lifelong athlete, I was surprised when my doctor diagnosed me with high cholesterol and high blood pressure, which are risk factors for heart disease," said Montana. "Heart disease was admittedly never top of mind for me, but after learning that my family history can influence the future health of my own family, I joined Amgen for Breakaway from Heart Disease. I want to motivate others to get active and let them know that they, too, can work to reduce the risk of heart disease for their families."
Breakaway from Heart Disease is an easy and fun way for Americans to support heart health and ride toward a better future through a series of bike and spin events. The first event kicks off on May 15, 2016, in San Diego during the Amgen Tour of California – the country's largest and most prestigious professional cycling race. The Heart Health Tour continues across America with bike and spin events as part of the American Heart Association's CycleNation, among other opportunities in select cities across the United States (U.S.). Visit www.BreakawayfromHeartDisease.com to find out more about what you can do today to help improve your heart health for tomorrow.
"With more than 40 percent of U.S. adults projected to have some form of cardiovascular disease by 2030, heart disease continues to be a critical health concern for Americans," said Raymond C. Jordan, senior vice president of Corporate Affairs at Amgen. "By joining leading organizations in a shared commitment, Breakaway from Heart Disease aims to encourage everyone to learn more about their family history of heart disease and get active through activities, such as cycling."
People can also join the ride virtually by uploading a cycling photo and pledging their miles to www.BreakawayfromHeartDisease.com using #HeartHealthTour. Each time a photo is submitted through the website, participants will be entered to win a set of Schwinn bikes, as well as trigger a $1 donation from Amgen to the American Heart Association.
"While heart disease can run in your family, it is largely preventable through education, simple lifestyle changes, and action," said Suzanne Steinbaum, D.O., cardiologist, and spokesperson for the American Heart Association. "That's why American Heart Association's CycleNation is excited to join Breakaway from Heart Disease to provide Americans with critical tools and information to help break the cycle of heart disease, and hopefully, improve their cardiovascular health 20 percent by 2020."