Happy Hearts Fund held their annual Fight for Education gala at Hammerstein Ballroom on Thursday, June 16, 2016.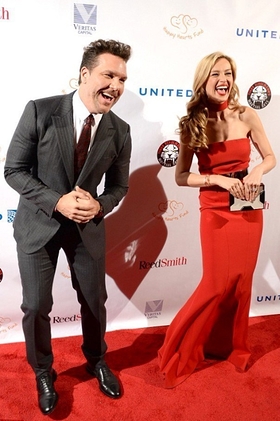 Leaders from finance, fashion, and sports gathered for the event hosted by Petra Nemcova, supermodel and founder of Happy Hearts Fund.
The gala's aim was to support Happy Hearts Fund mission to rebuild safe, resilient school in areas impacted by natural disasters. Since inception in 2006, Happy Hearts Fund has rebuilt 130 schools, helped over 50,000 students and over 500,000 community members in 10 countries around the world.
The evening's program began with several fights between amateurs from finance representing BlackRock, Deutsche Bank and Oppenheimer, among others. Oliver Dachsel, fighter from Deutsche Bank, impressed everyone with his fighting skill commented, "Thank you so much for giving me the opportunity to be part of this meaningful event."
Models Arlenis Sosa and Hind Salhi surprised guests with the real action-packed, exciting boxing showcasing how strong woman are.
"Happy Hearts Fund is a beautiful organization that I am beyond happy to work with and I truly believe in. Education to me is the most important gift that a child can have, helping them step into a brighter a future," shared Mrs. Sosa, Lancome spokeswoman and Victoria's Secret model.
Kathleen Kelly, from BlackRock, and Happy Hearts Fund board member, said, "The real heroes are the amateur fighters, as they dedicated three months of their lives to training to be ready tonight and to fight for education!"
Tina Lindstrom, Hedge Fund Manager, who kick-boxed last year & was on this year's event committee said, "The Happy Hearts Fund mission to rebuild schools is so important to me as a mother of two boys in elementary school. I can't imagine them being out of school for even a week, much less four to six years without the help of the charity. I fought in the ring last year for the kids and I will fight every day to help the rebuild safe schools."
At the end of the evening, Ms. Petra "Trouble" Nemcova took on comedian Dane "Kiss The" Cook. He remarked, "I was proud to be part of Happy Hearts Fund to help raise money for children that need education."
Ms. Nemcova reminded guests of the reason for coming together that evening, "This evening is not only a celebration," she remarked, "We are here for the children around the world who suffered so much after natural disasters and are currently waiting to get back to safe, resilient schools. Tonight's gala will allow us to change this reality which destroys generations."
"We can't thank enough our event sponsors ReedSmith, United, Veritas Capital and Tiger Schulmann; Committee Members and especially Ramzi Musallam for his commitment to education," shared Mrs. Ruggiero, Executive Director Happy Hearts Fund.
In attendance, were actors Dane Cook, Tony Hale; Models Arlenis Sosa, Lais Ribeiro, Cris Urena, Constance Jablonski, Hind Sahli; designers Vivienne Tam, Thomas Hayo; basketball players Donnie McGrath, Jared Homan, UFC fighters Anthony and Sergio Pettis, Aljamain Sterling, Yoel Romero, Jorge Masvidal, Lyman Good, Jimmie Rivera.