This August, the Jerry Garcia Foundation honors Jerry Garcia by donating several pieces of the legendary musician's fine art to a number of its charity partners.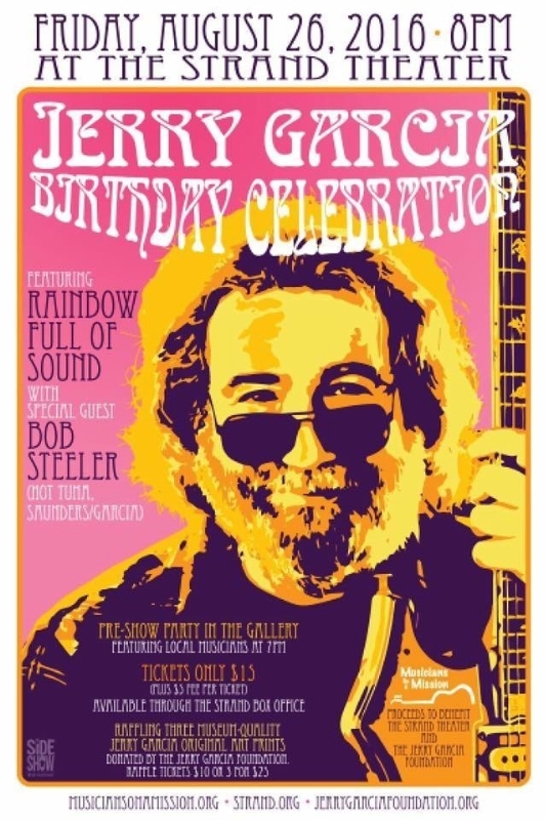 The new editions include the art pieces titled Golden Meadows, Butterfly Study and Mandolín Player.
These pieces have been selected as gift grants for like-minded charitable organizations.
Gift grant applications and art inquiries are welcomed by the Foundation and can be made through the Jerry Garcia Foundation website.
This month's charitable recipients of Jerry's fine art are: Musicians On A Mission, Jerry Day, Bread and Roses, WhyHunger, Fender Music Foundation, Psylodelic Gallery, HeadCount , Reverb, Jake Peavy Foundation and Shimer College.
"It is an honor to be able to share my father's creative spirit with so many charitable organizations that support such worthy causes," said Keelin Garcia.
Jerry Garcia's fine art can be viewed at the following galleries and music venues:
August 26th, The Jerry Garcia Birthday Celebration, an Evening of Music and Art. A benefit for the Strand Center for the Arts and The Jerry Garcia Foundation.
The event will be presented by Musicians On A Mission and hosted at the Strand Center for the Arts in Lakewood, NJ. 

Artist lineup includes: Rainbow Full of Sound 
with Special Guests Guitar Prodigy Corby Pryor, Bassist Tony Saunders (performed with Saunders/Garcia Band, Jorma Kaukonen and David Crosby) and Drummer Bob Steeler (formerly of Saunders/Garcia and Hot Tuna). Tickets Here. Jerry Garcia's fine art will be on display in the Strand Theater Art Gallery.
In addition, the Psylodelic Gallery has extended The Art of Jerry Garcia, an exhibit featuring over 30 pieces of Jerry's art, through November 2016. The Fur Peace Ranch Founders, Vanessa and Jorma Kaukonen, have united music, art, entertainment and education in their Psylodelic Gallery. Designed from a grain silo in Pomoroy, Ohio, the Psylodelic Gallery is home to 1960's art/music history and is decorated with memorabilia from the Psychedelic Era. The Gallery hosts artists, like Garcia, who is remembered as a quintessential figure of the period.
For more information, please visit the Jerry Garcia Foundation website.