Celebrities are expected to turnout for a special 9.11 benefit performance for non-profit River Street Theater Company of 110 Stories to be presented on Sept 10th and Sept. 11th.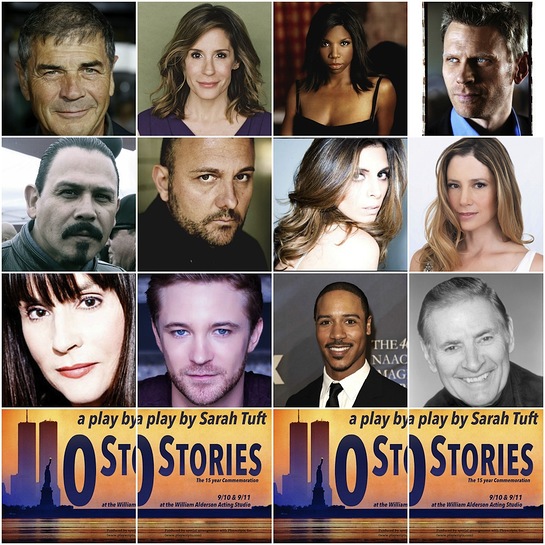 Academy Award Nominee, Robert Forster (The Confirmation, The Descendants, Jackie Brown), Elizabeth Greer (Bates Motel, Ray Donovan, Corbin Nash) SAG Nominee Mark Pellegrino (Quantico, The Big Lebowski, The Number 23), Emilio Rivera (Sons Of Anarchy, Z-Nation, Hitman: Agent 47), SAG Award Winner Jamie-Lynn Sigler (Guys With Kids, Entourage, Sopranos), Academy Award Winner Mira Sorvino (Falling Skies, Do You Believe, Mighty Aphrodite), Michael Welch (Twilight, Z Nation, Grace Unplugged) and Brian White (Chicago Fire, The Cabin In The Woods, Fighting) have joined Image Award Nominee Nicki Micheaux (Animal Kingdom, Lincoln Heights, The Shield), SAG Nominee & American Movie Award Winner Stelio Savante (Where The Road Runs Out, The Making Of The Mob: New York, Eisenstein In Guanajuato) and Golden Globe Nominee Diane Venora (The Insider, Heat, Bird) in the cast of River Street Theater Company's Staged Reading of the Sept 11th play, '110 Stories' (by Sarah Tuft).
To commemorate the 15th anniversary of the events of Sept. 11, 2001, 110 Stories (written by Sarah Tuft), will be presented in Los Angeles on Sept. 10th and Sept 11th at The William Alderson Acting Studio. The play is directed by iconic acting teacher William Alderson, produced by William Alderson and Stelio Savante, and additional celebrity performers will be announced soon.
Trained by Sanford Meisner, William Alderson taught alongside Mr Meisner at the Neighborhood Playhouse in NY from 1967 and was the school's associate director for twenty years. The Los Angeles studio was formed in 1995, and some of his former students clients include Allison Janney, Kim Basinger, Luis Guzman, and Jeff Goldblum.
The board of River Street Theater Company ( a 501c3 non profit) in Los Angeles includes such names as Matthew Carnahan, Robert Carnegie, Jeff Goldblum, David Mamet, and Jon Voight; and William Alderson serves as president.
110 Stories has a prestigious history, having been performed by A list casts at The Geffen Playhouse, Joseph Papp Public Theater, NYU Skirball, The Vineyard and various others for charities like The Red Cross, Dennis Leary Firefighters Foundation and the New York Says Thank You Foundation.
"110 Stories" is a powerful way to memorialize a shared tragedy. It weaves first-person accounts – selected from hundreds collected right after September 11th – into a journey that recalls our wounds as well as works towards healing them. It's the human side of history, without politics and agenda, giving voice to those who experienced 9/11 directly… a firefighter, homeless couple, police officer, iron-worker, massage therapist, chaplain, K9 handler, a mother, an elderly bulldog, a South American photojournalist. Together, these accounts shine a light into the human spirit – revealing hope, humor and compassion in the midst of tragedy.
Tickets can be purchased here.
The Saturday (Sept 10th) performance starts at 7:30 pm and the Sunday (Sept 11th) matinee is at 3pm, tickets are fixed at $40.