Known as 'Playful City USA,' Camden, S.C. is about to get even more so with a new Dream Court thanks to Nancy Lieberman Charities founder, Basketball Hall-of-Famer, two-time Olympian and NBA Sacramento Kings Assistant Coach Nancy Lieberman, WorldVentures Foundation, Sport Court and the WorldVentures team of Independent Representatives led by Regional Marketing Director Tre Kirkland.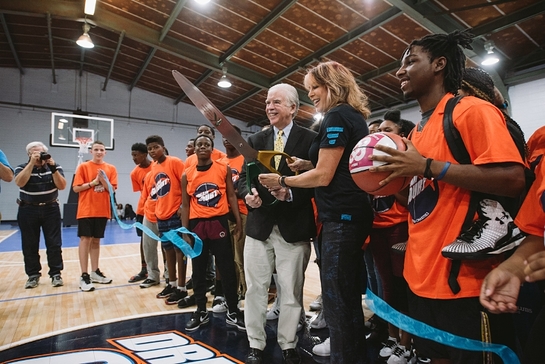 The new court was officially opened at the Boys & Girls Clubs of the Midlands—Jackson Teen Center in a dedication ceremony on Aug. 30. The gym, located at the former Jackson High School, has not been renovated in more than 30 years, and this was the first step in the vision to create a world-class facility, according to Carter Clark, President and CPO of the Boys & Girls Clubs of the Midlands.
Dream Courts are top-quality, multipurpose play spaces built with the goal of providing children in underprivileged communities a safe area to play basketball, interact socially, and learn important lessons about teamwork and good sportsmanship. The Jackson Teen Center Dream Court is the 29th court installed to date in communities across the country and the first indoor court.
The dedication ceremony was opened with the presentation of colors by the Camden High School ROTC. Clark then thanked Superintendent, Kershaw County school district Dr. Frank Morgan and his advisory board in attendance for challenging the community and the BGC Midlands to bring the court to the center, where more than 1,000 kids are served each day. Dr. Morgan spoke passionately, "We've built a place for young people to be their best and a model for how business is done. We've had the vision for what IS possible, instead of what is NOT possible."
Camden Mayor Tony Scully addressed the youth and guests in attendance, "We've been wonderfully blessed today. Blessed with an extraordinary center for progress and success. On behalf of the city of Camden, we embrace this center and the new Dream Court."
Bryan Mayes, director of the Jackson Teen Center, offered his thanks to the WorldVentures Foundation and Nancy Lieberman Charities, "You didn't just build a floor today. When this center first opened two years ago, we had 28 high school Seniors, and all 28 graduated and went on to college. Last year every one of our Seniors also went on to college or joined the military." And he challenged the teens in attendance, "You have no excuse now not to be the very best that you can be."
During the dedication, Nancy Lieberman said, "It is up to us to create intentional greatness. And that takes great teammates." She spoke lovingly of her friend and mentor Muhammad Ali who inspired her to teach that, "You must love you. You must believe in you. And as you move forward in life, you must lift as you rise."
Lieberman, a member of the Naismith Memorial Basketball Hall of Fame, made history last summer when she was hired by the Sacramento Kings, becoming just the second female assistant coach in NBA history. She broke down gender and cultural barriers at the young age of 11 when she first started playing basketball at Rucker Park in the Harlem neighborhood of New York City. Following the ribbon-cutting she officially opened the court with her signature half-court backwards shot accompanied by members of the WorldVentures Foundation, city officials and members of the Camden community, members of the Boys & Girls Clubs of the Midlands and Jackson Teen Center and local representatives from WorldVentures.