The GRAMMY Award-winning band Imagine Dragons performed an intimate acoustic set at the third annual gala benefiting the Tyler Robinson Foundation (TRF) at Caesars Palace.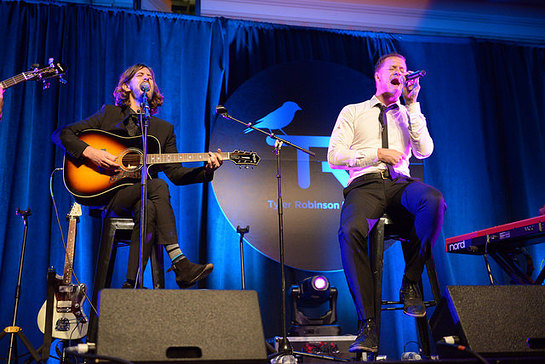 This extraordinary gala raises funds to support families affected by pediatric cancer.
Chris Harrison, from ABC's "The Bachelor," served as the evening's host. Four honorees were celebrated for their tireless efforts and work toward fighting pediatric cancer, including:
• Criss Angel: His passion for pediatric cancer research has intensified following the diagnosis of his 2-year-old son with leukemia.
• Dr. Raphael Rousseau: Leader of development or the Pediatric Oncology Drug Development Team at Genentech, Dr. Rousseau has dedicated his career to focusing on hard-to-treat pediatric cancers.
• Gavin, Owen, Quinn and Ethan Morrison: Since learning of TRF in 2014, this family has demonstrated dedication to raising funds and awareness through school and church groups.
• Hyundai Hope on Wheels: This organization funds innovative research and creates awareness, funding more than $115 million in pediatric cancer research in the U.S.
Founded in 2013 by GRAMMY Award-winning band Imagine Dragons and the Robinson family, TRF's mission is to strengthen families financially and emotionally as they cope with the tragedy of a pediatric cancer diagnosis by providing hope, information, and relief through financial services, caring volunteers, and monetary grants. The TRF is a 501c3 non-profit organization.