Staples and global superstar Katy Perry teamed up and helped hundreds of teachers bring learning to life through the 2016 Staples for Students program, which fulfilled $1 million in classroom projects through the non-profit organization DonorsChoose.org.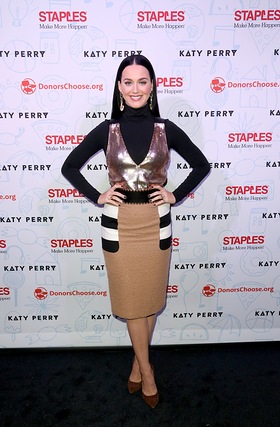 In April, Staples announced a $1 million donation to DonorsChoose.org, a charity that has funded more than 800,000 classroom projects for teachers and has positively affected more than 20 million students across the country. As a result, Staples fulfilled 1,072 classroom projects across the country, providing 787 teachers in 402 schools with their classroom needs, and impacting 98,609 students.
Additionally, Staples customers nationwide donated more than $330,000 to DonorsChoose.org at Staples stores and www.StaplesForStudents.com in the lead-up to back-to-school season.
"We're grateful to our customers and thank them for donating to the Staples for Students campaign, which helps teachers and classrooms across the country through DonorsChoose.org," said Frank P. Bifulco, Jr., executive vice president global marketing, Staples. "It was a pleasure to once again team up with Katy Perry to raise awareness around this important cause and to help teachers bring learning to life for students."
The program was driven by a statistic from the Education Market Association that an estimated 99.5 percent of all public school teachers use their own money to equip their classrooms, frequently at a cost of more than $400 per year.
"Teaming up with Staples in 2014 taught me firsthand how important it is to support our nation's teachers, and how often they are forced to dig into their own pockets to provide even the most basic school supplies for their students," said Katy Perry. "It was an honor to be able to work with Staples and DonorsChoose.org again this year, and I am delighted that our efforts have helped pave the way for students to realize their dreams."
"We're so grateful for Staples' continued partnership in helping teachers and students to succeed, as well as for the support of its loyal customers and Katy Perry," said Charles Best, founder of DonorsChoose.org. "This year marks the third time that we've worked with Staples to help teachers make more happen, and we've again heard directly from teachers that Staples and DonorsChoose.org have made a lasting impact on their classrooms."
$50,000 Scholarship Winner
Katy Perry presented the grand prize winner of the Staples for Students Sweepstakes, Patricia O'Keefe and her son Matthew, Deep River, Conn., with a $50,000 scholarship at a Winners VIP Celebration in Los Angeles on October 13th. Matthew is a senior in high school and is currently applying to colleges for enrollment in fall 2017. Four lucky first prize winners and one guest each also joined the celebration and met Katy Perry.