Wonder Woman, the iconic superhero, has been named an Honorary Ambassador for the Empowerment of Women and Girls by the United Nations and will be tasked with raising awareness about Goal 5 of the UN Sustainable Development Goals, which seeks to achieve gender equality and empower all women and girls by 2030.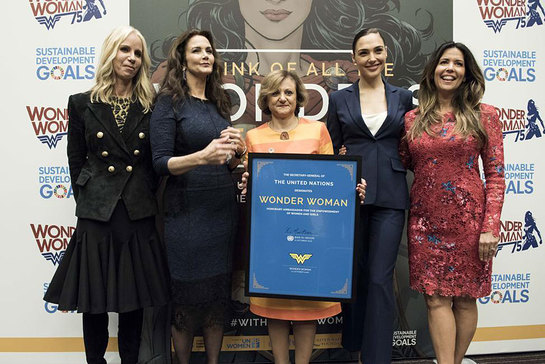 "While we have achieved progress towards gender equality in many parts of the world, women and girls continue to suffer discrimination and violence. Gender equality is a fundamental human right and a foundation for a peaceful, prosperous and sustainable world," UN Under-Secretary-General for Communications and Public Information Cristina Gallach said at a ceremony last week at UN Headquarters in New York. Lynda Carter and Gal Gadot were also present at the event.
The campaign, supported by DC Entertainment and Warner Bros., "is an example of how we are working with diverse partners and making new alliances to reach out to audiences everywhere to know about and understand the Goals, and, in this case, about gender equality," she said.
Wonder Woman's strength and fight for justice and peace will help to focus the campaign's attention in five key areas:
• Speaking out against discrimination and limitations on women and girls;
• Joining forces with others against gender-based violence and abuse;
• Supporting full and effective participation and equal opportunity for women and girls in leadership in all spheres of life – including the workplace;
• Ensuring all women and girls have access to quality learning, and:
• Sharing examples of real life women and girls who are making a difference every day.
"Supporting the United Nations campaign for female empowerment is a weighty responsibility and one that all of us at DC and Warner Bros. are proud to take on," declared Diane Nelson, President of DC Entertainment and of Warner Bros. Consumer Products.
The campaign launches on the 75th anniversary of Wonder Woman's first appearance in a comic book in 1941. Social media graphics and messaging will help support the key actions and a custom comic book on the empowerment of women and girls will be produced in Arabic, Chinese, English, French, Russian, and Spanish, the six official languages of the UN.
The campaign takes its place in a long history of initiatives by the United Nations on behalf of securing gender equality that includes efforts such as Planet 5050 by 2030, HeForShe, and UNiTE to End Violence Against Women.
"Wonder Woman has always been a trailblazer for women's rights and we believe she can continue that legacy by expanding and deepening the dialogue around these critical issues," said Ms. Nelson.
Indeed, she told those gathered for today's event, "we believe that in addition to the exemplary work that amazing real women are doing in the fight for gender equality, it is to be commended that the UN understands that stories – even comic book stories and their characters – can inspire, teach and reveal injustices."