Pat Monahan, lead singer of the GRAMMY-winning, multi-platinum-selling band Train, performed on Tuesday, October 13th at the Beverly Hills headquarters of Kennedy Wilson, supporting the inaugural fund-raising event for HomeAid Los Angeles which raised over $120,000 to launch the new chapter.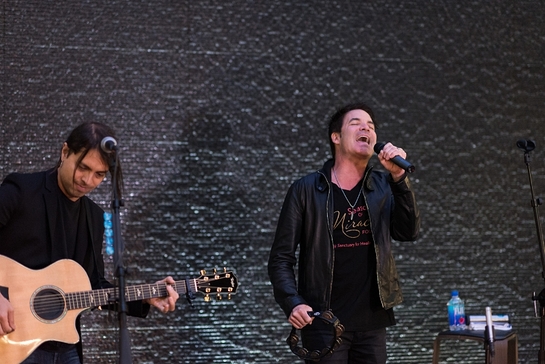 Energizing and inspiring the audience, the performance included Train's hit songs "Hey Soul Sister," "Drops of Jupiter," and "Calling All Angels." HomeAid is close to the heart of Mr. Monahan, who works diligently with his sister-in-law, Summer Peterson Shute, in the family's Season of Miracles Foundation. The Season of Miracles Foundation and HomeAid are already partnering to build a Healing Garden in Seattle, and HomeAid Los Angeles looks forward to working with Season of Miracles to deliver this exciting concept to Los Angeles.
Through HomeAid, the building industry gives back to the community by building and rehabilitating housing for organizations helping families and individuals experiencing homelessness. With start-up funding in place, HomeAid Los Angeles is now identifying charities and care providers that work to help homeless families and individuals in need of additional or upgraded facilities, developing a pipeline of projects that will increase available housing for LA's homeless population. HomeAid's charitable partnerships ensure safe housing for our neighbors in need, while also supporting needed programmatic resources, such as job and life skills training, financial counseling, and physical and emotional support are always available to each participant.
"We're here to thank HomeAid because we are building a beautiful sanctuary in Seattle and we hope to spread it down to LA," said Summer. "So, thank you for welcoming Season of Miracles."
Recent studies show that upwards of 50,000 homeless people are living on the streets in Los Angeles County. In her remarks, HomeAid Board President Sandra Stewart said, "HomeAid brings the power of the building industry to reach and help so many of those who truly need us. We are going to make a real difference in making Los Angeles stronger than ever."
Major event sponsors included: Kennedy Wilson and Meyers Research, Etco Homes, First American Title, Lennar Charitable Housing Foundation, RK Gore & Associates, Bank of America, FNTG Building Services, The Resmark Company, and Wells Fargo Home Mortgage. Additional major sponsors included: Brookfield Residential, Cal Atlantic Group, Caliber Home Loans, Fuscoe Engineering, Lone Oak Industries, PAG Construction, Pardee Homes, Polaris Pacific, Province Group, Williams Homes, Cox Castle and Nicholson, LLP and Manatt, Phelps and Phillips LLP.