Main Line Animal Rescue's billboards along the Pennsylvania Turnpike feature Supermodel Christie Brinkley and her rescue dog, Chester.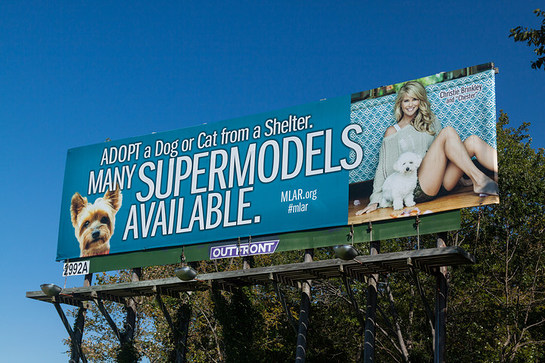 Miss Brinkley, a staunch advocate on behalf of animals, agreed to be featured on the billboards to encourage others to adopt shelter pets. MLAR met Miss Brinkley through television personality/author Jill Rappaport and subsequently adopted Chester from the Pennsylvania based animal rescue.
"One of the things that makes Christie so beautiful is her willingness to help at risk animals" said MLAR's founder Bill Smith.
Main Line Animal Rescue is well known for their innovative billboards; their anti-puppy mill billboard in Chicago was seen by Oprah and led to the television icon's puppy mill show in 2008. MLAR has reached out to Congresswoman Tammy Duckworth requesting the Iraqi war hero appear on their next boards which would read "Be a Hero to a Shelter Dog or Cat. Adopt from Your Local Shelter or Rescue."
"We're hoping the Congresswoman agrees to be featured on our next billboards" said Smith. "Her courage and spirit are truly inspiring. The same could be said for shelter animals."
MLAR is one of the largest no-kill animal shelters in the country with over 360 dogs, cats, rabbits and other animals available for adoption. MLAR receives no government funding and relies solely on private donations to support their lifesaving programs.