Antonio Brown, wide-receiver of the Pittsburgh Steelers, will host the "DraftKings Antonio Brown Super Slam Celebrity Basketball Game" on Friday, February 3.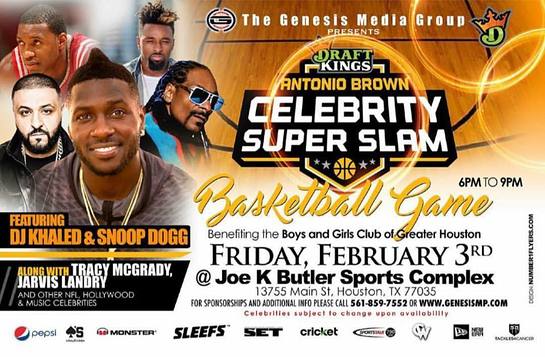 The game will be played at the Joe K. Butler Sports Complex located at 13755 Main Street in Houston. Partial proceeds from the event will benefit the Boys and Girls Clubs of Greater Houston.
"I'm excited about the opportunity to help the Boys and Girls Club of Greater Houston" said Brown. "You can never do enough in our communities, especially where kids and their development are involved."
"We are grateful that Antonio has chosen to give back to the Boys and Girls Clubs of Greater Houston through his Super Slam charity basketball game," said Tiffani Wesson, Corporate Outreach Manager for the Boys and Girls Clubs of Greater Houston. "Our organization strives to continue being a positive place for kids. Antonio's work is doing just that by making an impact on our Houston community."
Fans will enjoy an electric atmosphere as NFL and NBA players, Hollywood celebrities, music and reality TV stars come together for a fun-filled game of hoops for a great cause. Attending celebrities include rapper Snoop Dogg, hip hop artist DJ Khaled, Lesean McCoy of the Buffalo Bills, basketball legend Tracy McGrady, reality star Porsha Williams, and a whole roster of professional athletes and celebrities coming out to support the youth. There will be a special performance during the SLEEFS halftime show. Sponsors to date of the celebrity Super Slam include: Event title sponsor, DraftKings, the leading skill-based Daily Fantasy Sports (DFS) platform; Sleefs, a company that designs and produces custom compression gear; Pepsi who will provide complimentary beverages from the PepsiCo family; SET Magazine, a sports and entertainment lifestyle magazine; Ace Apparel, a lifestyle clothing company aimed at bringing awareness and aiding in the fight for cancer; and Tackles4Cancer (tackles4cancer.org), a nonprofit founded by ex NFL player Dominic Austin to aid in the fight against cancer. Austin's organization also aligned food provided by Kind Bar and Peli Peli.
Doors will open at 6pm and the game will officially begin at 7:30pm. The event is being produced by the marketing and event production firm, The Genesis Marketing and Promotions, LLC dba The Genesis Media Group. For tickets, click here.