The Humane Society of the United States' All Animals Magazine has featured an interview with Garfield creator Jim Davis about his support of the Shelter Pet Project, a public service ad campaign focused on spreading the word that pets in shelters are wonderful and lovable, and encouraging potential adopters to consider the shelter as the first place to look when acquiring a "new best friend."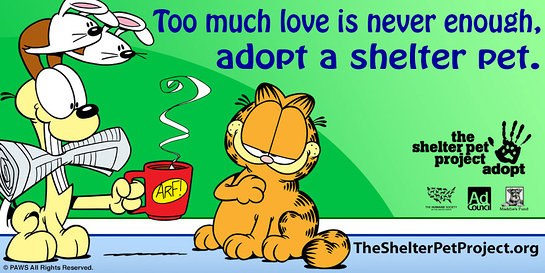 In the interview – by James Hettinger of Animal Sheltering magazine – Jim Davis talks about how he hopes Garfield can help end animal homelessness.
How did you decide to get Garfield and Odie involved in the Shelter Pet Project?
It was such a perfect fit for the characters. Both Garfield and Odie were abandoned by their owners — Garfield was left to fend for himself in an Italian restaurant before he was eventually adopted by Jon Arbuckle, and Odie was left behind by his owner, Jon's former roommate, Lyman. (There are various theories on what became of Lyman.) The characters have enjoyed all the comforts of home, and they hope to help their fellow pets enjoy the same.
What do you think the characters can offer to help the cause?
Because they're animated and colorful, they can capture the audience's attention. Because they're funny, they can deliver an important message with a bit of humor. And because they're pets, they can relate to the plight of the shelter pet.
To read the full interview, click here.