Singer songwriter Jackson Browne announces two special benefit concerts for The Actors' Gang Theatre on March 22 and 29, 2017. The theatre located in Culver City, CA will be selling a limited number of 90 seats per show.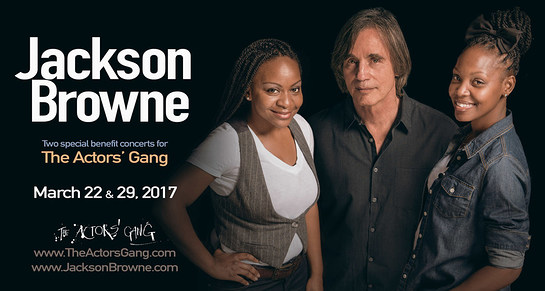 Tickets are available online now at www.TheActorsGang.com.
"The Actors Gang Theater is a jewel in the middle of LA – a world-class repertory company under the direction of actor and director Tim Robbins. They have staged their innovative productions here for years and taken them throughout the world, and I've been fortunate to see many of them," says Jackson Browne. "They also work in the prison system here, and there is a continuity that runs through their theater work and their work on behalf of social justice. Their recent productions of Harlequino: On to Freedom, The Exonerated, and Lyrics From Lockdown gave me the idea of doing a residency in support of their work, and introducing this brilliant theater to my audience."
Jackson Browne will perform an acoustic show, joined by longtime backing vocalists Chavonne Stewart and Alethea Mills.
"Jackson Browne has been an artist that not only has created classic music that has resonated throughout the past five decades but has consistently been a godfather and mentor of young musicians in Los Angeles and throughout the world," says Tim Robbins. "Those that have had the pleasure to work with Jackson know that his heart is as large as his talent. We are honored and blessed to welcome Jackson Browne, a great friend and longtime supporter of The Actors' Gang, to our stage."
Since 1982, The Actors' Gang has created and presented over 150 bold, original works and reinterpretations of classics. Based in Los Angeles the Gang has performed its unique style of theater in 45 States in the US and throughout the world on five continents.
The groundbreaking Actors Gang Prison Project has expanded to ten California prisons serving incarcerated women, men and children with rehabilitation programs that reduce tensions in prisons and significantly reduce the recidivism rate.
Thousands of children in Los Angeles public schools have discovered confidence and creativity with our Actors' Gang Education Department in school immersion and after school programs. Classes encourage acceptance, respect and team building in a fun and effective way. For more information, please visit us in our theater or online at www.theactorsgang.com. The Actors' Gang Theatre is located at 9070 Venice Blvd., Culver City, CA 9023