Last week's sold-out 30th Anniversary Tibet House US Benefit Concert Celebrating Philip Glass's 80th Birthday at Carnegie Hall in New York City made for yet another unforgettable evening in the concert's long history.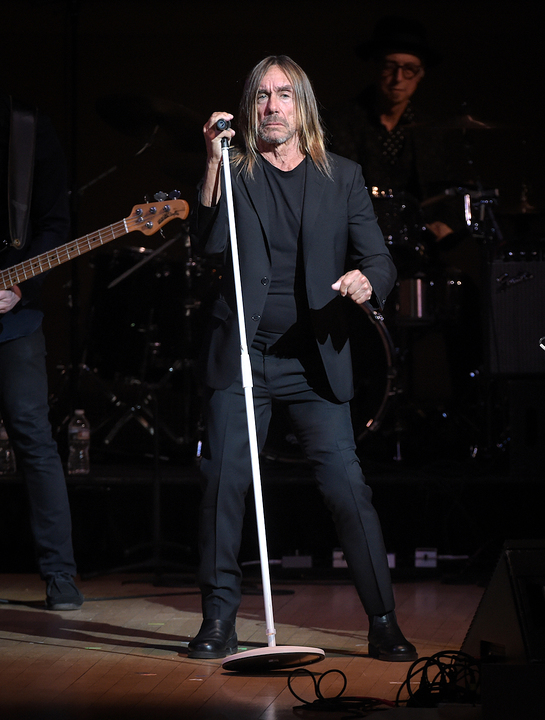 The extraordinary lineup, including Philip Glass, Laurie Anderson, Ben Harper, Iggy Pop, New Order's Bernard Sumner, Phil Cunningham and Tom Chapman, Alabama Shakes, Patti Smith and her Band, Sufjan Stevens, Tenzin Choegyal and Jesse Paris Smith, Scorchio Quartet and Lavinia Meijer brought the audience on a journey full of contemplative, mesmerizing, and explosive moments. The evening was all thanks to the esteemed composer Philip Glass, who served as curator and artistic director for the evening.
The memorable event began with a traditional chant from Tibetan Monks, followed by remarks for Tibet House President Bob Thurman, encouraging the audience to practice acceptance, love and come together to resist. The speech laid the thematic groundwork for the evening, which included strong political undertones and rare collaborations that could only be experienced at the event. Laurie Anderson mesmerized the crowd with an existential moving spoken-word piece, "Don't Go Back to Sea," before joining with Philip Glass and the Scorchio Quartet for a frenetic, dissonant performance of "Etude no. 10." Guitar master Alabama Shakes sent the crowd into a frenzy as they were joined by Philip Glass, Lavinia Meijer and the Scorchio Quartet for emotional renditions of "Over My Head" and "Sound & Color," showcasing Brittany Howard's dynamic vocals and powerful sound. Ben Harper took the stage and astonished the audience with his world-class artistry, with a soulful performance of "Paris Sunrise #7 Lifeline."
Following a special introduction by ACLU Executive Director Anthony Romero, Sufjan Stevens spoke of love and wisdom in his own rendition of "The Star Spangled Banner." A special collaboration between Iggy Pop and New Order's Bernard Sumner, Phil Cunningham and Tom Chapman were pals on stage as they played an explosive rock 'n' roll set, complete with coordinated dance moves and playful stage banter for performances of "Stray Dog," "Shades," and covered The Joy Division's "She's Lost Control." Closing out the night was a powerful performance by Patti Smith. The renowned artist performed a cover of Bob Dylan's "Hard Rain is Gonna Fall," which she praised as poetry, before a passionate performance of "Citizenship." Everyone joined Patti Smith and her band onstage as the audience leapt to their feet and clapped along to "People Have the Power," concluding with Smith exclaiming: "Use your voice, be vigilant, be strong, be happy."
The festivities continued late into the night as all of the performing artists, Honorary Chairs, Uma Thurman, Chuck Close, Maggie Gyllenhaal, Peter Sarsgaard, and Arden Wohl, VIPs and Tibet House supporters enjoyed the elegant post-concert gala at Gotham Hall…a perfect end to one of the longest-running and most acclaimed live cultural events in NYC. Proceeds went to support the work of Tibet House US as they forge ahead with their mission to protect and preserve the unique Tibetan culture.