AbbVie, a global biopharmaceutical company, has announced that actress, dancer and Emmy Award-winning choreographer Julianne Hough is helping to raise awareness about endometriosis through a campaign called "Get in the Know about ME in EndoMEtriosis."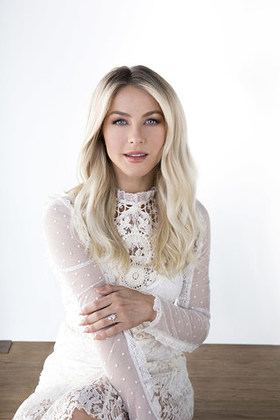 The campaign, sponsored by AbbVie, is dedicated to inspiring women to learn about and understand endometriosis, a disease affecting an estimated one in 10 women, and to address their symptoms with a healthcare professional. Despite being one of the most common gynecologic disorders in America, there is a lack of awareness and prioritization of endometriosis as an important women's health issue.
"After I was diagnosed with endometriosis in 2008, I talked about my symptoms with family and close friends and it led some of them to talk to a doctor about their own symptoms," said Hough, who is best known as a two-time professional champion and judge on Dancing with the Stars. "I am the ME in EndoMEtriosis and I'm here to show women what the face of this chronic and painful disease looks like. Endometriosis is a part of me, and it could be affecting you and many other women in your life."
Endometriosis is associated with pain symptoms which can be debilitating and may interfere with day-to-day activities. Without proper communication about endometriosis, it may take longer for women to receive a diagnosis. The Get in the Know website aims to increase awareness about endometriosis, elevate understanding and facilitate conversations between women and healthcare professionals. Women with endometriosis can suffer for up to six to 10 years before diagnosis. The website features a wide range of information and tools such as an endometriosis checklist, which provides a simple overview of symptoms so women can identify those that apply to them, and a symptoms tracker, meant to help women understand the impact endometriosis symptoms have on their daily lives.
"AbbVie is proud to work with Julianne Hough and to make this education campaign possible," said Michael Norton, vice president, head of U.S. medical affairs at AbbVie. "Although endometriosis cannot be cured, the pain associated with endometriosis can be managed upon proper diagnosis. With the 'Get in the Know about ME in EndoMEtriosis' campaign, our hope is to educate about endometriosis and empower women to engage in dialogue with physicians, family and friends to help bring awareness to symptoms and change the way the disease is understood."
For more information, visit MEinEndo.com and join the conversation online by sharing #MEinEndo.