On Thursday, March 16, 2023, The Women's Cancer Research Fund (WCRF) Gala Chairs Quinn Ezralow and Jamie Tisch, Co-Chairs Kris Levine, NJ Falk, Danielle Lauder, Kelly Chapman Meyer, and Steve Tisch welcomed guests to An Unforgettable Evening.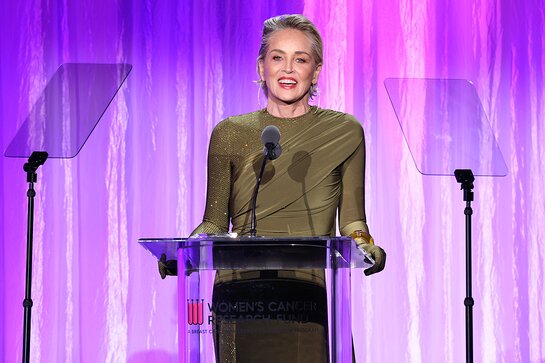 The event returned to the Beverly Wilshire, A Four Seasons Hotel, and raised over $2 million to benefit the Women's Cancer Research Fund, a program of the Breast Cancer Research Foundation (BCRF).
This year, actress Sharon Stone received the 2023 Courage Award, presented by Jamie Tisch, for her support of breast cancer research and dedication to raising awareness for the cause. Upon taking the stage, Stone said, "So often things that start with women get overlooked completely, and I am so grateful to stand for something that doesn't." During her acceptance speech, Stone asked women in the room who have battled breast cancer, as well as anyone who has had a loved one affected by it, to stand up for a round of applause in solidarity.
Doctor, business owner, philanthropist, public speaker, bestselling author, and recognized leader in functional medicine Dr. Stacie J. Stephenson and philanthropist, entrepreneur, and global merchant banker Richard J Stephenson together received the 2023 Unsung Hero Award, presented by Maria Bello and Dominique Crenn, for their unwavering commitment to fighting cancer and supporting patient-centered treatment and care. In accepting the award, Dr. Stacie J. Stephenson said, "We are so honored to be named this year's Unsung Heroes, and while we may be taking home this beautiful, golden, crystal piece, we are sharing it eternally with each one of you and more."
Introduced by actor Rebel Wilson, Grammy Award-winning pop rock band Maroon 5 brought the crowd to their feet with their stripped down, three-piece acoustic set, which included hit songs "This Love," "Moves Like Jagger," "She Will Be Loved," and a cover of Frank Sinatra's "The Way You Look Tonight."
Additional guests in attendance included Anastasia Soare, Behati Prinsloo, Bella Giannulli, Chord Overstreet, Cynthia Bailey, Derek Blasberg, Elizabeth Gilpin, Gela Nash, Halston Sage, Harry Hamlin, John Taylor, Jonetta Kaiser, Julianne Hough, Kathy Hilton, Kim Petras, Liana Liberato, Lisa Rinna, Megan Blake Irwin, Natasha Bassett, Nia Vardalos, Nicky Whelan, Olivia Jade, Paul Wesley, Rachel Zoe, Will Ropp and more.
An Unforgettable Evening is WCRF's flagship fundraising event featuring extraordinary honorees and tributes to cancer survivors and the memory of those impacted by cancer. For over 20 years, this event has brought together leaders in entertainment, cancer research and corporate philanthropy to raise funds for pioneering cancer research conducted at leading medical and academic institutions in California and across the U.S. Previous An Unforgettable Evening Honorees have included Kate Hudson, Gabrielle Union, Christina Applegate, Renée Zellweger, Natalie Cole, Courteney Cox, Sheryl Crow, Melissa Ethridge, Renette Ezralow, Tom Ford, Carolina Herrera, Faith Hill & Tim McGraw, Jennifer Hudson, Sir Elton John, Nicole Kidman, Judy & Leonard Lauder, Stella McCartney, Gwyneth Paltrow, Sofia Vergara, and more.
WCRF was founded by Quinn Ezralow, Kelly Chapman Meyer, Jamie Tisch and the late Anne Douglas, Marion Laurie and Renette Ezralow. This year's Honorary Chairs included Rita Wilson & Tom Hanks and Kate Capshaw & Steven Spielberg, along with Gala Chairs Quinn Ezralow and Jamie Tisch, and Co-Chairs Wallis Annenberg & Kris Levine, NJ Falk, Tom Ford, Judy & Leonard Lauder, William P. Lauder, Danielle Lauder, Marion Laurie, Kelly Chapman Meyer and Steve Tisch.