Oscar-winning actress, philanthropist and businesswoman Halle Berry was in Los Angeles last week to crown the winners of the Chivas Venture – Chivas Regal's $1 million global search to find and support the next generation of startups that want to succeed while creating a better future for society.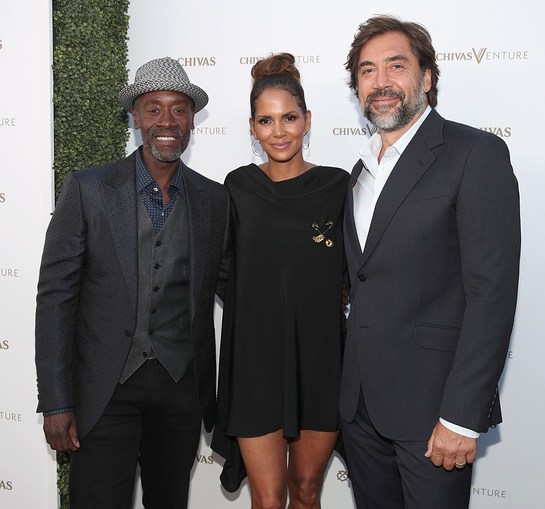 The winners were announced after five innovative entrepreneurs pitched in front of a star-studded live audience including Hollywood sensations Javier Bardem and Don Cheadle. Thailand's Siam Organic, which aims to end small-scale farmers' poverty, walked away with the largest contribution from the Chivas Venture fund, receiving $400,000.
The event – hosted by actor and comedian Josh Gad and held at LADC Studios in Los Angeles – was the culmination of the third year of the Chivas Venture, which has seen 30 finalists from 6 continents compete for a share of the total $1 million fund. The judging panel – which comprised Halle Berry; founding Executive Director of the Beeck Center for Social Impact + Innovation at Georgetown University, Sonal Shah; founder of MissionU, Pencils of Promise and best-selling author of The Promise of a Pencil, Adam Braun; and Chairman and CEO of Pernod Ricard, which owns Chivas Regal, Alexandre Ricard – assessed each business based on their ability to create sustainable change through a viable business model and potential to scale.
The additional finalists to receive funding and recognition were: Nigeria's Recycle Points ($200,000) – which helps consumers to create value from their everyday waste; Colombia's Bioestibas ($50,000) – which produces ecological stowage from flower waste that would otherwise pollute the environment; South Africa's iDrop Water ($50,000), which aims to change the way water is consumed and sold in Africa, through vending units that purify and dispense water in-store; and Israel's Intendu ($50,000), which aids brain rehabilitation through the use of video games.
Reacting to his win, overall winner Peetachai (Neil) Dejkraisak from Siam Organic said: "I am so happy and grateful – this will have a massive impact. We have extremely limited resources, so to have funding like this from the Chivas Venture is just incredible. It will fast-track our project by 3 or 4 years – and save me a lot of grey hair and sleepless nights!"
When asked by host Josh Gad if social entrepreneurs are today's superheroes, X-Men star and judge Halle Berry commented: "All of the finalists here tonight are our modern-day heroes. They are all fighting to make a change and have a positive impact on the world."
Pernod Ricard Chairman and CEO Alexandre Ricard added: "The calibre of finalists this evening was extremely high. To see Neil and the other finalists succeed will be the ultimate fulfilment for us as judges. We wish them all the very best."
Now in its third year, the Chivas Venture has to date received almost 6,000 applications from startups that are striving to use innovation and enterprise to make the world a better place. The $2 million given away over the past two years has been used to support startups that now have over 300,000 beneficiaries in more than 40 countries across the globe. The vision of the future as imagined by this year's 30 finalists is a place where protein bars are made from crickets and shoes made from garbage; where walls of moss clean city air and human waste is turned into affordable cooking fuel.
Continuing Chivas' commitment to inspire and support future generations of entrepreneurs, social enterprises from across the world are invited to apply for the chance to win a share of $1 million in funding as entries for the Chivas Venture 2018 open on 4th September 2017. Visit the Chivas Venture website for further details.