Here is a once-in-a-lifetime opportunity for the Beatles fan in your life – not only can you win VIP tickets to see Paul McCartney at Brooklyn's Barclay's Centre, the megastar will also invite you up on stage to join him in singing Get Back.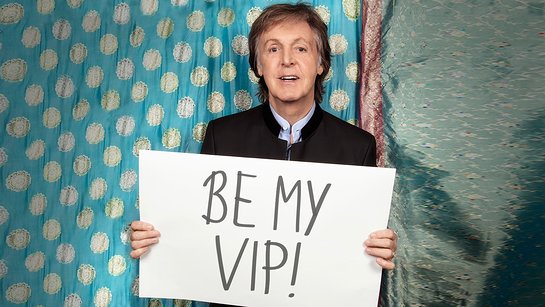 You ready to Get Back? Yes sir. The one and only Paul McCartney is performing a huge arena show at Barclays Center in Brooklyn, and while there'll be tens of thousands of loyal fans, Paul's bringing just one on stage with him: YOU. Not only will you and your guest score VIP tickets to the show, you'll also get exclusive access to the sound check earlier in the day. That's where you'll see the master at work, getting everything perfect for the main event. That's ALSO where you'll join Paul — one of the world's most legendary musicians ever in the history of the world — ON STAGE and sing "Get Back" with him! You can freak out now. Flights and hotel included.
The more you donate to the David Lynch Foundation through omaze.com, the more chances you will get to win this awesome prize.
The David Lynch Foundation, founded in 2005, targets the epidemic of trauma and toxic stress among under-resourced populations through the implementation of the evidence-based Transcendental Meditation technique. DLF has served more than 500,000 children and adults worldwide, with a focus on urban youth in underserved schools, veterans suffering from post-traumatic stress and their families, and women and children who are survivors of domestic violence and sexual assault. DLF also works with the homeless, prison populations, people living with HIV/AIDS, and others.
To find out more, visit omaze.com.