On Saturday, October 21st, 2017, celebrity and fashionable guests alike arrived at Union Station in Downtown Los Angeles for the Autism Speaks' Into The Blue Fashion Gala.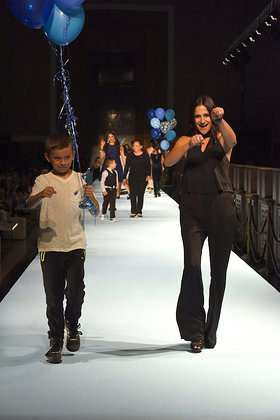 Hosted by Entertainment Tonight's Keltie Knight, Into The Blue took a seat at the forefront of fashion entertainment as it partners with the iconic fashion brand ESCADA to present the runway looks. The event sparkled with celebrities in both film and television, models, studio executives and and others within the industry, to all join together to benefit the organization's Southern California Chapter.
Among the stars who took part were Freddie Highmore (The Good Doctor), Keltie Knight (Host & Entertainment Tonight), Cameron Boyce (Descendants), Logan Shroyer (This Is Us), Brandon Micheal Hall (The Mayor), Tamara Taylor (Bones), Garcelle Beauvais (Spider-Man: Homecoming), Erin Murphy (Bewitched), Jules Bruff (Zodiac), Massi Furlan (The Dark Knight Rises and Live by Night), Alessandra Garcia (Model), Delanie Dischert (America's Next Top Model), Courtney Paige Nelson (America's Next Top Model), Sima Cohen (Celebrity Trainer), among others..
Upon arrival, celebrity and VIP guests walked the signature blue carpet, and continued on to enjoy the beautifully lit outdoor cocktail reception, which twinkled with blue lighting, crystal accents, and featured gourmet craft cocktails, live performances, a silent auction, and guests mingling. Following the reception, all guests were seated at elegantly decorated white linen tables in the grand ballroom, where they were treated to a curated fashion show by ESCADA, as celebrity models dazzled the blue-lit runway in the brand's newest designs.
Following the runway show, awards were presented to corporate leaders and dedicated individuals for their commitment to enhancing lives today, and accelerating a spectrum of solutions for tomorrow. This year's Awareness Award was presented to Sony Pictures Television and ABC's, THE GOOD DOCTOR, starring Freddie Highmore who portrays a young surgeon with autism.
"Autism Speaks recognizes the influence and impact that the entertainment industry has on advancing the awareness of autism," stated Angela Geiger, president and CEO of Autism Speaks. "We are grateful for the support and are thrilled to recognize community leaders who have made a committed effort to increase understanding and acceptance of people with autism."
Autism Speaks is dedicated to promoting solutions, across the spectrum and throughout the life span, for the needs of individuals with autism and their families. We do this through advocacy and support; increasing understanding and acceptance of autism spectrum disorder; and advancing research into causes and better interventions for autism spectrum disorder and related conditions. We empower people with autism and their families with resources, online tools and information covering the life span. To find resources, join a fundraising walk or make a donation, go to www.AutismSpeaks.org.