The Earl and Countess Spencer hosted Whole Child International's inaugural fundraising gala in Los Angeles at the Beverly Wilshire Hotel last week, along with Co-Chairs Giselle Fernandez, Teri & Ken Hertz, Nina & Harvey Karp, Lauren King, Deborah Klein, Fran & John Lasker, and Robin & Dr. Alfredo Trento.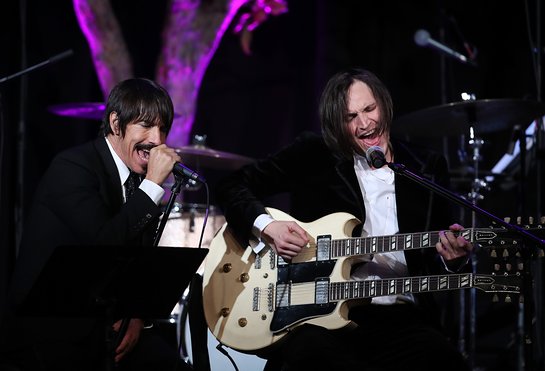 Sir Ken Robinson served as Master of Ceremonies for the event, which also included an acoustic performance by Anthony Kiedis and Josh Klinghoffer of the Red Hot Chili Peppers, and a very special live auction. Additional attendees included Shohreh Aghdashloo, Catherine Bach, Angie Harmon, British Consul General Michael Howells, Chandler Kinney, Frank Mancuso, Nancy Moonves, Renee Olstead, Terri Seymour, and Canadian Consul General James Villeneuve.
Sir Ken Robinson welcomed guests to the event with a few words about the importance of childcare and education, not just in our own homes, but globally. Earl Spencer then took to the stage to present a poignant video about the organization, and introduced his wife, Founder and CEO of Whole Child International, Countess Spencer. Countess Spencer gave a moving speech about Whole Child International's mission to improve the quality of care for the world's most vulnerable children through a program focused on relationship-centered care. She acknowledged the issue can be an easy one to ignore, especially when these children are far away, and are already clothed and fed.
"If you don't think that millions of children growing up without experiencing love and connection, or being able to develop empathy, can't impact us here then you need to turn on the news," said Countess Spencer to resounding applause. "We are really going to have to start investing as much in building love and connection as we do in building weapons, or we are never going to get out of this mess we're in."
The gala included a highly anticipated live auction, during which guests were able to bid on unique and one of a kind items. A weekend stay for up to twenty guests at the historic Althorp estate went for an outstanding $200,000. Earl Spencer donated the first two of just one hundred limited printed editions of the eulogy that he gave at the funeral of his sister, the late Princess Diana; they were created in honor of the 20th anniversary of her passing, and raised an impressive $45,000 for the cause. Anthony Kiedis and Josh Klinghoffer of the Red Hot Chili Peppers closed out the evening with an intimate acoustic performance that featured hit songs "Can't Stop," "Californication," and "By The Way."
Countess Spencer founded Whole Child International in 2004 with the aim of improving the quality of care for vulnerable children worldwide. There are millions of at risk children around the world that are being raised on an assembly line, growing up in empty rooms and deprived of stable, supportive relationships. This is the plight of children in orphanages, those from low-income, at-risk families who spend most of their long days in low-quality childcare centers, and those being bounced around foster care. Whole Child International strives to elevate the quality of care to give every child the opportunity to be properly cared for and loved. The program is designed to unlock an enormously valuable resource: the power of relationships and human connection. Research has proven that in as little as two years, and without any change to nutrition or increase in the number of caregivers, children receiving the benefit of Whole Child International's program experienced a 46% improvement in height-for-age and 34% improvement in weight-for-age, as well as overall improvement in development, including cognitive, linguistic, motor, and social-emotional development.