Today, Farm Sanctuary, America's leading farm animal protection organization, announces that Mckenna Grace, star of "Gifted," Netflix's "The Haunting Of Hill House," and "I, Tonya," is their 2017 Adopt a Turkey Project spokesperson.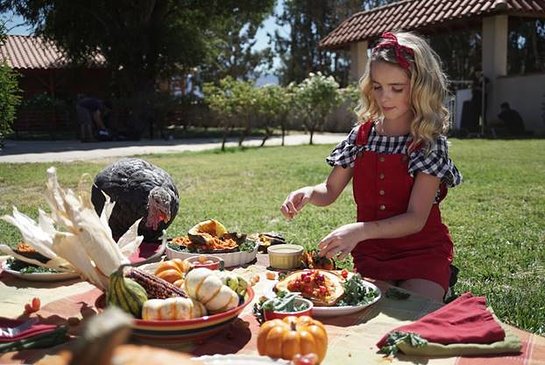 Following in the footsteps of Alec Baldwin and Ellen DeGeneres, she will speak out for turkeys, who are some of the most abused animals on Earth.
In an adorable new video shot at Farm Sanctuary's shelter for rescued farm animals in Acton, CA, Mckenna, surrounded by her feathered friends, informs viewers that turkeys are smart, social, curious, playful, and enjoy being petted and cuddled, just like a dog or a cat. She also acknowledges a sad reality: that although turkeys can live up to ten years, most only live to be a few months old.
"Turkeys make awesome friends," says Grace. "They are so sweet and they all have different personalities. That's why I would rather love them than eat them. Sadly, 46 million turkeys are killed at Thanksgiving and never get a chance at a good life. That's nothing to be thankful for. So this year, do our turkey friends a favor and keep them off your plate. Join me and be a part of Farm Sanctuary's Adopt a Turkey Project!"
Since 1986, Farm Sanctuary's Adopt a Turkey Project has turned the tables on the traditional Thanksgiving celebration by inspiring people to commemorate turkeys as guests of honor around our tables, instead of upon them. The project has saved hundreds of turkeys from cruelty while inspiring countless individuals to sponsor a turkey who resides at one of Farm Sanctuary's three shelters in New York and California. For a one-time donation of $30, turkey sponsors receive a special adoption certificate with a color photo and fun facts about their new feathered friend — perfect for displaying on your holiday table!
To learn more information about the Adopt a Turkey Project, visit adoptaturkey.com.