Lucy and Tiffany Watson have teamed up with Humane Society International UK to help consumers avoid being conned into buying cruel animal fur mislabelled as faux fur.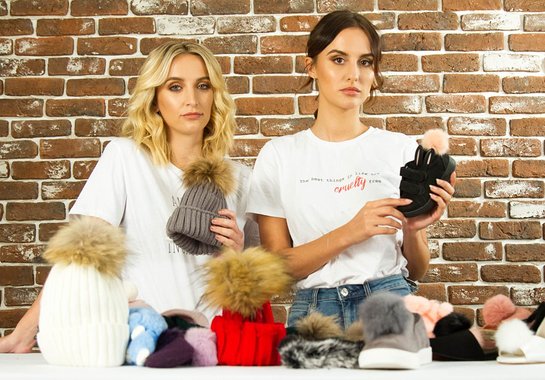 Filmed in support of the charity's #FurFreeBritian campaign, the vegan sisters – and Lucy's dog Digby – share their top tips for telling apart real and fake fur amidst the growing problem of fur from animals such as raccoon dogs, rabbit and fox being sold to consumers as synthetic fur online, at independent stores and even on the high-street.
House of Fraser, Debenhams, Amazon, ASOS and Lily Lulu are among the trusted retailers that HSI UK has exposed previously selling real fur as fake with either labels or online descriptions wrongly claiming items to be 'faux fur' or '100% acrylic'. As labels can lie, HSI UK have produced the video with Lucy and Tiffany to help shoppers spot fake faux fur.
In the video Lucy and Tiffany point out 3 tests to help shoppers be their own fur detectives:
Test 1: The Tips Test – Real fur tapers to a point at the end (unless sheared). Faux fur tips are blunt where the material has been cut in manufacturing.
Test 2: The Roots Test – Faux fur is attached to woven fabric. The base of real fur is an animal's skin (leather).
Test 3: The Burn Test – Only to be conducted on an owned item (not in store!), cut and burn a few hairs. Real animal fur singes and smells like burnt human hair. Faux fur melts and smells like burnt plastic.
Lucy and Tiffany also point viewers to a free, downloadable wallet-sized guide to help tell the difference between real and faux fur. They also urge ethical consumers to get active for animals by signing HSI's #FurFreeBritain petition calling for a ban on fur imports.
Lucy said "The fur trade really disgusts me, it's hideously cruel and it really upsets me to see so much fur being worn. But I suspect that many people may be wearing real fur without realising it because so much of it is mislabelled. Creating this video lets us alert shoppers to how easy it is to be misled into buying real fur. Many people I've worked with wear real fur, knowingly or unknowingly, so it's an issue I feel particularly strongly about. There really is no excuse for wearing cruel fur anymore and I hope this video helps people make more informed and ethical decisions about what they are buying."
Tiffany said "Some of the fake faux fur items found by HSI UK in the past have really shocked me because in some cases they were sold by brands that Lucy and I have bought from. It shows that even trusted retailers can slip up and it really is for consumers to take matters into their own hands and be vigilant. Cheap price, reassuring labels and trusted retailers can no longer be relied on to tell you if fur is real or not. Lucy and I hate fur so much, we fully support HSI's call for real fur being banned from Britain for good."
To highlight the issue further, HSI UK has launched a nationwide campaign with cruelty-free cosmetics retailer Lush with an eye-catching lenticular currently in all 103 Lush store windows across the UK. The lenticular shows a woman wearing a fur bobble hat cleverly morphing into a fox on a fur farm.
HSI UK is calling on the government to introduce mandatory fur labelling so that consumers can avoid the real fur products to which they ethically object. HSI believes that ultimately it is not enough simply to label cruel fur products, and a UK ban on the import and sale of fur is needed to bring the marketplace in line with public opinion.
Claire Bass, executive director of Humane Society International UK said: "British consumers watching Lucy and Tiffany's video will be shocked to learn that they are being duped into buying real animal fur. Real fur is the product of animal cruelty, with animals living tragic and utterly deprived lives in small, wire cages, until electrocuted or gassed for their fur. It is totally unacceptable for trusted brands and independent retailers to sell real animal fur at deceptively cheap prices, described as "faux" or "100% acrylic". To fix the fake faux fur scandal, we're calling on the government to introduce mandatory, clear labelling of all animal fur as an urgent first step, but ultimately we want to see the UK close its borders to the cruel, outdated and unnecessary fur trade."