Last Chance for Animals (LCA), along with a coalition of animal rights organizations and activists, led the annual "Fur Free Friday" demonstration in Beverly Hills over the weekend.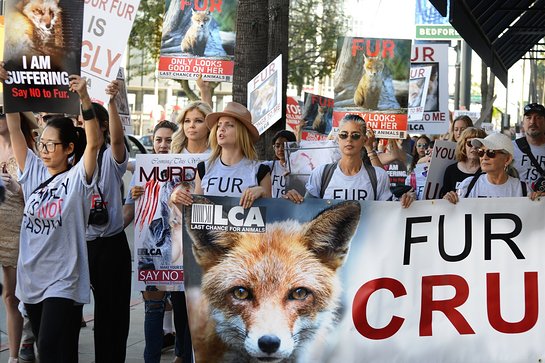 The event, which included a march of more than 200 protesters along Rodeo Drive, aimed to raise awareness of the cruelties inflicted on the millions of fur-bearing animals that are slaughtered each year for the sake of fashion.
Actresses Mena Suvari and Donna D'Errico were among those who peacefully protested among bustling Black Friday shoppers, echoing comments made this year by luxury brand leaders that fur is not modern and going out of style.
The demonstration was organized and hosted by LCA and led by Bryan Monell, LCA's Activist of the Year award recipient and former LCA undercover animal rights investigator who was instrumental in passing the historic West Hollywood fur ban.
People for the Ethical Treatment of Animals (PETA), In Defense of Animals, Beagle Freedom Project, Compassion Works International, Anti-Fur Society, All-Creatures, Earthlings, Los Angeles Animal Save and Animal Pac also participated in today's protest to double down on their firm stance against retailers that sell fur and the inherent cruelty of the fur industry that uses torturous kill methods, including suffocation, electrocution, gas, and poison.
"Billions of animals are executed every year to make coats, bags and charms," said Chris DeRose, LCA president and founder. "The decision not to buy or wear fur would be easy if more people knew about the deplorable conditions these animals are raised in that literally drives them insane. Our goal on Fur Free Friday is to pull back the veil and educate the public about the grim truth."
Visit www.FurFreeFriday.com to view a video message from actress Priscilla Presley.