Priscilla Presley was honored at Victoria's Voice Foundation gala "Music for Life" on November 11, receiving the 2023 Legacy Award for her courage and grace amidst adversity.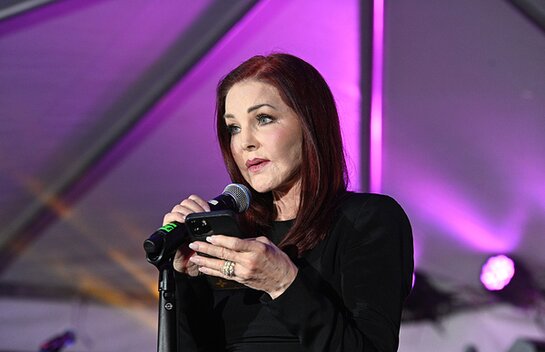 Presley, a best-selling author, actress and executive producer of the critically acclaimed feature film, "Priscilla," received the award in front of nearly 300 attendees from Jackie Siegel, the co-founder of Victoria's Voice.
Held at a private estate in Palm Island, FL and featuring a headline performance by Grammy-winner Patti LaBelle, the special evening raised funds to combat the opioid overdose crisis that continues to devastate families and communities nationwide. Victoria's Voice provides drug prevention education and naloxone awareness, support and resources to those affected by substance use.
"Tonight, we honor a woman who, through her resilience, has not only touched our hearts but has shown us the true power of the human spirit," said Jackie Siegel. "Her journey and legacy is one of unwavering determination and a testament to the indomitable human will."
"Throughout my life I have seen firsthand how drugs devastate families. This award inspires me to continue advocating for those impacted by addiction and who live every day in fear that their loved ones will be taken from them," said Presley. "I am incredibly moved by how David and Jackie have turned their painful loss into a force for good and giving back. I salute everyone involved with Victoria's Voice and I share this award with all of you."
The Music for Life Gala kicked off with a cocktail reception, followed by dinner, dancing and a special performance by LaBelle, who performed several of her greatest hits from her storied, seven-decade-long career.
Also, Interval International had the distinct honor to receive the Victoria's Voice Corporate Hero Award with its Vice President of Business Development, Jay Wilson, accepting the award on its behalf.
Victoria's Voice receives support from various corporations, philanthropic organizations and individuals nationwide.
"It's inspiring to witness prominent donors come from every part of the country to support the foundation and the significant impact it has made on fighting the drug crisis," said Dan Neill, ONDCP HIDTA Director of seven states. "I know this firsthand from working with them through the DEA and now in my current position.
The Centers for Disease Control and Prevention (CDC) recorded nearly 110,000 deaths from drug overdose in 2022 across the United States. Opioids – a class of drugs that include heroin, synthetic opioids such as fentanyl and pain relievers like oxycodone – comprise about 75% of overdose deaths, according to the CDC. Earlier this spring, the U.S. Food and Drug Administration approved the first over-the-counter naloxone nasal spray that reverses the effect of an opioid overdose, restoring breathing and consciousness within minutes of being administered. Naloxone is safe and easy to use, works almost immediately and has very few side effects.