Last week, St. Jude Children's Research Hospital honored GRAMMY Award-winning country music superstar Brad Paisley with the prestigious Randy Owen Angels Among Us Award.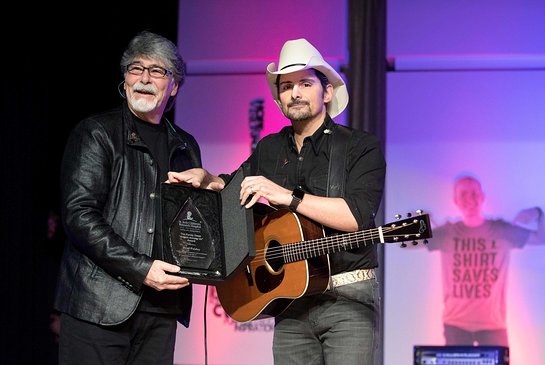 The coveted award – which recognizes individuals who have made exceptional and lasting contributions to the hospital through their humanitarian spirit and unique commitment – was given to Paisley Saturday, Jan. 13, at the annual Country Cares for St. Jude Kids songwriter's dinner at The Peabody Memphis.
This recognition places Paisley among the ranks of five past recipients, including Alabama front man and co-founder of Country Cares for St. Jude Kids, Randy Owen for whom the award is named; additional recipients are country music artist John Rich, former ALSAC Chief Operating Officer David McKee (posthumously), St. Jude Country Cares Advisory Council member Sharon Eaves (posthumously), and country music artist Darius Rucker.
Paisley is a long-standing supporter of the lifesaving mission of St. Jude. In 2011, he recorded "One of Those Lives," a song inspired by the courageous patients and families of St. Jude. Paisley donated a family gathering room to St. Jude Target House, St. Jude's long-term housing facility for families staying more than 90 days. The Brad Paisley Lodge, positioned near the entrance of St. Jude Target House, is a cozy, common area for residents with a pool table, Guitar Hero gaming system, TVs and a fireplace. Thanks to generous donors, families stay at the St. Jude Target House for no cost.
"We are proud to honor Brad Paisley with this recognition. His unwavering passion, service and generosity are truly inspiring, and over the years he has made a significant difference in the lives of patients and families at St. Jude," said Richard Shadyac Jr., President and CEO of ALSAC, the fundraising and awareness organization for St. Jude Children's Research Hospital.
He continued, "This recognition is a testament to Brad Paisley's strong advocacy for St. Jude, and the ongoing fight for children with cancer and other life-threatening diseases. And this honor for Brad also reflects the strength of the entire country music industry, who devote their hearts, time and talent each year to further share our mission and raise funds that are critically important in ensuring families never receive a bill for treatment, travel, housing or food – because all a family should worry about is helping their child live."