By Myrlia Purcell on
New York Mayor Bill de Blasio is encouraging other politicians to join him in the fight against Big Oil.
The city of New York is looking at how current laws apply to climate change, and aims to hold oil and gas producers responsible for costs related to the environmental effects of their products.
Last month New York used the concepts of 'public nuisance' and 'private nuisance' to bring a lawsuit against oil companies BP Plc, Chevron Corp., ConocoPhillips, Exxon Mobil Corp., and Royal Dutch Shell Plc.
Lawyers for the city stated, "Defendants are collectively responsible, through their production, marketing and sale of fossil fuels, for over 11 percent of all the carbon and methane pollution from industrial sources that has accumulated in the atmosphere since the dawn of the Industrial Revolution. Defendants are also responsible for leading the public relations strategy for the entire fossil fuel industry, downplaying the risks of climate change and promoting fossil fuel use despite the risks."
De Blasio also joined Comptroller Scott Stringer in announcing that the city plans to divest about $5 billion from more than 190 "fossil fuel reserve owners" within the next five years, making its five pension plans more environmentally responsible.
The New York mayor sat down with Vermont Senator Bernie Sanders in January, where he said:
"I'll say this for New York City. We just acted, and I want to urge every city, every county, every state to do the same – divest. Divest from the fossil fuel industry. Let's help bring the death knell to this industry that's done so much harm. Like the tobacco companies that were successfully sued decades ago. We're also suing five of the biggest including Exxon Mobil for example who systematically poisoned the Earth, knew about it, covered it up, explained it away, tried to hook people more and more on their product. We think that what every city can do and every locality – use your litigation power to go at these bad actors and get the resources back."
During his chat with Bernie he praised grassroots movements and the effect they can have on creating a better system for the people. In fact, the initial pressure that has led to New York's battle against Big Oil was begun on a grassroots level, with hurricane-affected citizens such as Rachel Rivera and Michael Johnson refusing to sit back and wait for someone else to take action.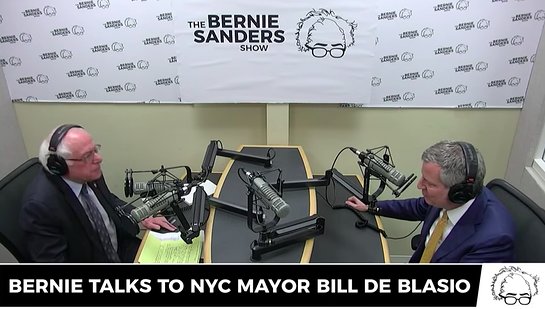 The mayor acknowledged the push in the right direction during the Bernie Sanders Show, saying, "There has been an incredible movement in New York City. I want to give them a lot of credit, because I have to tell you, when I first raised it to experts in my administration, they raised all sorts of problems, roadblocks, challenges, but that movement kept pushing us and saying divestment would make a huge difference."