The Duchess of Cambridge has become Patron of the Royal College of Obstetricians and Gynaecologists (RCOG), and Patron of the Nursing Now campaign.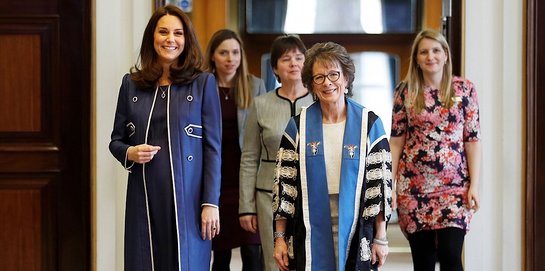 The new patronages were announced ahead of Her Royal Highness' visit to the RCOG and St. Thomas' Hospital afterwards, where The Duchess officially launched the Nursing Now campaign.
Founded in 1929, The RCOG is a medical charity that champions the provision of high quality women's healthcare in the UK and beyond. The college now has over 16,000 members around the world.
During the visit, HRH learnt more about the college's global health programmes to reduce maternal and new-born mortality worldwide, before attending a roundtable discussion on tackling the stigma around women's health.
After learning about the training programmes for doctors specialising in the field, The Duchess then saw how the College's workshops continue training support for trainee doctors. These allow doctors to develop safe surgical techniques and essential clinical skills in obstetrics and gynaecology.
The Duchess also heard about the RCOG's Centre for Women's Global Health, which supports communities across the world with women's maternal and gynaecological health – and works to reduce maternal and newborn fatalities. The RCOG also runs the Leading Safe Choices programme, which operates in South Africa and Tanzania.
The Nursing Now campaign is a major global campaign aimed at raising the profile and status of nursing and nurses worldwide. The campaign will support more nurses to play a greater role in health policy decision-making, helping countries meet the pressing health challenges of the 21st century.
The global campaign will run over the next three years in collaboration with the International Council of Nurses and the World Health Organisation (WHO). It is a programme of the Burdett Trust for Nursing.
The Duchess of Cambridge becomes the RCOG's second Patron, after Her Majesty Queen Elizabeth The Queen Mother.
Source: Royal.uk