On Earth Day, April 22, Energy Upgrade California (EUC), a statewide initiative committed to helping Californians take action to save energy, teamed up with environmentalist and actor Ian Somerhalder to host a Cold Wash Party at a Los Angeles-area laundromat.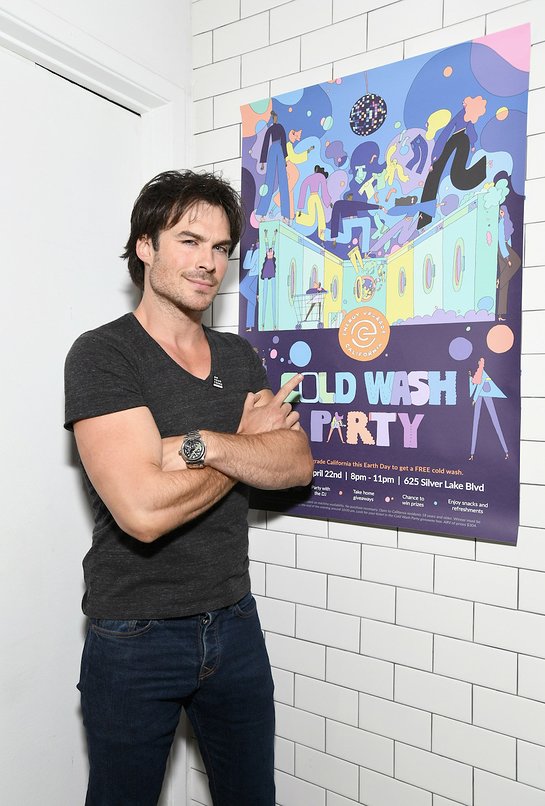 The Earth Day event is a part of EUC's "Do Your Thing" campaign and was designed to raise awareness about small behaviors Californians can take to save energy and reduce demand on the energy grid. According to EUC, the demand for energy reaches its peak between the hours of 4 p.m. and 9 p.m. Shifting the time in which energy is used will help save electricity and also reduce the demand on the grid.
The Cold Wash Parties were held in three locations in California – Los Angeles, Sacramento and San Francisco, where attendees were invited to wash their clothes in cold water between the hours of 8 p.m. and 11 p.m. By shifting the time of day when they washed clothes and changing the washing machine's setting to "cold," attendees demonstrated one example of a smart energy management choice Californians can make in their everyday lives. Attendees received a night of music, cold drinks, swag and a free cold wash.
"Saving energy can't just be something we do on Earth Day. Our state (and world) would be better off if we focused on energy efficiency every day," said Ian Somerhalder. "Washing clothes in cold water, effectively using 90 percent less energy, is just one way we can commit to a more sustainable future in California."
"Energy Upgrade California hosted these cold wash parties, not only to help bring an awareness to this direct call to action, but to help bring awareness to the overall issue of energy usage," stated Commissioner Carla J. Peterman of the California Public Utilities Commission (CPUC). "By encouraging people to take this small step (washing clothes in cold water not during peak energy use), we are hopefully encouraging other energy saving behaviors that will not only benefit residents themselves, but help other businesses and the state overall."
"I am excited I was able to participate in this Cold Wash Party, as well as represent this movement. However, there are other steps residents can take to be efficient in their energy use other than just washing clothes in cold water – such as turning off appliances when not in use or limiting all energy usage throughout the day," stated Somerhalder.
Energy Upgrade California supports California in its mission to double energy efficiency and reduce greenhouse gas emissions by 40 percent by 2030. With the second lowest per capita electricity consumption rates in the country, California is known for "doing its thing" when it comes to energy efficiency. Sustainable energy practices benefit all California residents and businesses in a variety of ways, from reducing pollution, to slowing climate change, and creating a more prosperous state overall.
Somerhalder participated in the Los Angeles Cold Wash Party, as part of the Energy Upgrade California "Do Your Thing" movement. This "Do Your Thing," statewide movement taps into the pride, diversity and innovative spirit that makes California so special. It empowers every Californian with the tools and information to benefit themselves and the state through energy efficiency.
For more information about Energy Upgrade California, the "Do Your Thing" movement, its mission and partners, please visit: www.EnergyUpgradeCA.org.