Big Brothers Big Sisters of Greater Los Angeles (BBBSLA) held its annual Accessories for Success Scholarship Luncheon, on Sunday, April 22nd at the Beverly Wilshire, Beverly Hills and presented by City National Bank.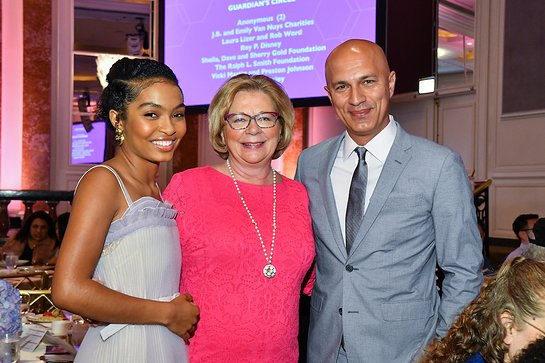 The event honored three exemplary women, who have demonstrated outstanding leadership and support for children facing adversity in Los Angeles. The event also presented a record 108 to college bound youth from the BBBSLA program.
Actress and activist Yara Shahidi (Black-ish and Grown-ish) presented the "Excellence In Mentoring Award" to Tracy D. Underwood, Senior Vice President of ABC Signature, and to Laurie Zaks, President of Mandeville Television. BBBSLA Board Chair Laura Lizer, presented the "Innovator Award" to Martha Henderson, Executive Vice President of Entertainment Banking at City National Bank. "Big Brothers Big Sisters of Greater Los Angeles relies on an extraordinary group of Bigs who invest time, energy and guidance to positively impact the lives of our Littles" said Olivia Diaz-Lampham, CEO of BBBSLA. "The Accessories for Success Luncheon allows us to recognize those in our community who go above and beyond as champions for our children. Tracy Underwood, Laurie Zaks and Martha Henderson provide tremendous support to underserved youth in our mentoring program."
Model and actress Amber Valletta hosted the luncheon and awards presentation, fashion gurus Lloyd Boston and Jenna Fredrique Aponte emceed the fashion show. The afternoon highlight was a fashion show featuring Big Brothers and Sisters ("Bigs") with their Little Brothers and Sisters ("Littles") modeling outfits and accessories they selected in a Goodwill store, with a budget of $30. Part of an education initiative by Goodwill to develop self-sufficiency in youth, the project emphasizes the importance of shopping on a budget. Participating Bigs in the fashion show include Jessica Silvaggio, Alice Halburton, Lyric Everly, Jon Shigematsu, Jenah Doucette, Kelly Kulchak, and Christopher Smith. The model pairs received a shopping day fashion assist from celebrity stylist and TV host, Kalee Hewlett, who introduced the "behind the scenes" shopping spree video to scholarship luncheon guests. Honorary Co-Chairs included Rebecca Campbell, Nancy Daniels, Stephen Galloway, Anne Globe, NJ Goldston, Barbara Lazaroff, Nicole Lorey, Loyola Marymount University, Lori McCreary, Kate Nichols, Charon Harroun Peirce, Nina Shaw, Sandra Stern, and Nancy Taylor.
A highlight of the afternoon was a speech from little sister Paola Franco, who thanked BBBSLA for matching her with Jennifer Salke in the Women In Entertainment Mentorship Program in 2013. Paola is a DACA student and is now graduating Loyola Marymount University in one year, on a full ride scholarship. "Jennifer has been a shoulder to lean on, my biggest cheerleader, and my honorary mother," said Paola. "If you take one thing away from this, it is that your circumstances and challenges don't define you."
The "Excellence in Mentoring Award" honoree Tracy D. Underwood is the Senior Vice President of ABC Signature and under her leadership, most recently, Signature received season two pickups for their critically acclaimed comedy "SMILF" created by Frankie Shaw on Showtime, "grown-ish" from creator/executive producer Kenya Barris on Freeform, and "Marvel's Runaways" from Josh Schwartz and Stephanie Savage on Hulu. Ms. Underwood became involved with BBBSLA though the Women in Entertainment mentorship program, where she was matched with Amanda Cornish during her junior year at Kennedy High School. Amanda received the honor of a scholarship through the prestigious Posse Foundation in partnership with Pepperdine University where she's currently a freshman. "It is a privilege and honor to carry out a mission set forth by one of my role models, Sherry Lansing and to be a member of the BBBSLA family through the Women in Entertainment mentorship program," said Underwood. "Meeting Amanda and becoming part of her life's journey is truly one of my proudest achievements. I am as much her mentee as she is mine. I'm honored to share this award with a dear friend and colleague, Laurie, as we carry on the tradition of supporting generations of women in all aspects of our industry."
"Excellence in Mentoring Award" honoree Laurie Zaks is the President of Mandeville Television and has been at ABC Studios since 2006, when she became president of Beacon Television. At Beacon, Zaks developed ABC's "Castle", on which she served as executive producer for five years. Laurie is currently shooting three pilots for ABC Network, which will hopefully be on the Fall schedule. Laurie Zaks volunteers her time to the BBBSLA Women in Entertainment mentorship program. Ms. Zaks was perfectly matched with her Little, Carla, when she was a junior in high school, and Carla is now a freshman at Loyola Marymount University. "Working with the Big Brothers Big Sisters Women in Entertainment program has been one of the most meaningful experiences of my career," said Laurie Zaks. "It's a tremendous honor to have been chosen to mentor and provide leadership to such outstanding young women."
As the Executive Vice President and Manager of Entertainment Banking at City National Bank, the "Innovator Award" honoree Martha Henderson is an avid BBBSLA supporter and is gratified to be able to help girls further their education and become strong, successful women. In 2016, Ms. Henderson was named as one of Variety's Power of Women Impact honorees. In 2014 and 2015, she was honored as one of the 50 most powerful executives in the industry by Billboard at the Women in Music Awards. Last year, Henderson was profiled in Barron's as the most powerful banker in Hollywood. "City National Bank is honored to have supported Big Brothers Big Sisters of Greater Los Angeles for nearly 20 years," said Henderson. "This organization is near and dear to my heart because I have personally benefitted from having strong mentors in my life. Mentorship gives kids the guidance and encouragement they need in order to achieve their dreams. I am grateful for this experience with BBBSLA and honored to accept this recognition."