SONY Pictures Entertainment, ABC's The Good Doctor, Netflix's Atypical, and several filmmakers were honored for their contributions to autism awareness "From Spectrum to Screen" by the Autism Society of America at the 2nd Annual AutFest International Film Festival (April 28-29), held at the Writers Guild Theater in Beverly Hills.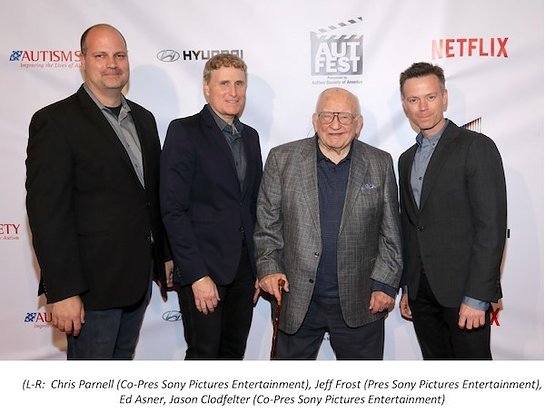 AutFest screened over 16 feature films, shorts and television programs that promote autism awareness and/or are made by autistic filmmakers.
Seven-time Emmy winner and autism advocate Ed Asner presented SONY Pictures Entertainment with the AutFest Visionary Award, bestowed upon Jeff Frost, President of Sony Pictures Television Studios, and Co-Presidents of Sony Pictures Television Chris Parnell and Jason Clodfelter at the festival's closing reception. ABC's The Good Doctor and Netflix's Atypical received Spotlight Awards, honored for their exceptional portrayal of autism in a positive light to help increase understanding and acceptance of people on the spectrum.
Prior to the reception, cast and crew of Netflix's Atypical participated in a Q&A moderated by PEOPLE reporter Kara Warner after a screening of two episodes. Participating in the panel were Creator Robia Rashid (Will & Grace, How I Met Your Mother), Oscar-nominated actress Jennifer Jason Leigh (The Hateful Eight), Brigette Lundy-Paine (Downsizing, The Glass Castle), Keir Gilchrist (It's Kind of a Funny Story), Nik Dodani (Kevin from Work), Layla Weiner and Nikki Gutman; Executive Producers Mary Rohlich (Gleason, Baywatch); Author David Finch (The Journal of Best Practices) and Autism Consultant Michelle Dean (Ph.D. Special Education, UCLA).
Following the Atypical panel, ABC's The Good Doctor screened one episode and held a panel/Q&A immediately following. Emmy-winning Executive Producer David Shore (House, Sneaky Pete), Emmy-winning actor Richard Schiff (The West Wing, Ballers), Nicholas Gonzalez (How to Get Away with Murder, Pretty Little Liars, Narcos) and Autism Consultant Melissa Reiner (Md.Ed) participated, also moderated by Kara Warner, PEOPLE.
Additional highlights of the festival included a Power Rangers screening, followed by a panel with Actor RJ Cyler, who plays Billy Cranston, an autistic nerd and the super hero Blue Ranger. Oscar-nominated Executive Producer/Writer John Gatins (Flight) joined the panel, moderated by Director/Producer Kevin Tenney. The panel was met with a huge ovation from the audience as the Blue Power Ranger character (RJ Cyler) is the first super hero to be depicted as autistic.
The film Please Stand By screening was followed by a panel with Director Ben Lewin (The Sessions), Writer Michael Golcamo (Grimm) and Autism Consultant Elaine Hall (The Miracle Project, Fly Away), moderated by Matt Asner, AutFest founder and Autism Society's VP of Development.
"AutFest is proud to honor SONY Pictures Entertainment and outstanding television shows Atypical and The Good Doctor for their cinematic and television contributions reflecting the autism community in a positive light," said Matt Asner. "We are touched by the overwhelming support of the entertainment and autism communities and look forward to this annual event."
Over six feature films and eight short films and two television series were presented during the two-day festival that included Roman J. Israel Esq, Barfi, Dina and Randy's Canvas. Two of the shorts, The Girl Inside and Big Mouth were written and directed by filmmakers on the autism spectrum. A special panel addressing "Love and Relationships" followed the Barfi screening. For more information, visit autfestasa.com or follow @AutFest on Twitter, Instagram and Snapchat.
The 2nd Annual AutFest International Film Festival winners include:
Best Film:
Randy's Canvas, directed by Sean Michael Beyer (U.S.A.)
Best Documentary:
Dina, directed by Antonio Santini and Dan Sickles (U.S.A.)
Best Short:
Sisterly, directed by Nina Vallado (U.S.A.)
Best Performance
Adam Carbone, Randy's Canvas (U.S.A.)
Best Autistic Filmmaker:
Abbey Romeo, The Girl Inside (U.S.A.)
Celebrities including Emmy-nominated actor Gary Cole (Veep), Oscar-nominated actor Robert Forster (Jackie Brown), Denise Grayson (Social Network) and Johnny Dowers (The Bridge) were on hand to attend the festival's closing festivities.
In attendance were Autism Society of America's Joe Joyce, Chairman, Board of Directors; Scott Badesch, President and CEO; and Lori Ireland, Vice Chair, Board of Directors. AutFest Honorary Committee Members include seven-time Emmy winner and autism advocate Ed Asner, actress Kristen Bell (House of Lies), actor Dax Shepard (CHIPS), Emmy-winning actress comedian Sarah Silverman, Golden Globe-nominated actor Matthew Modine (Stranger Things), Emmy-nominated actor Gary Cole (Veep), Autism Speaks co-founder Bob Wright, The Suzanne Wright Foundation president Liz Feld, Warner Bros.
AutFest 2018 is proudly sponsored by GOLD: Hyundai, State of Qatar, Sony Pictures, Entertainment; SILVER: Ainsworth Pet Nutrition, Lindamood Belle, Netflix; FRIENDS OF THE FESTIVAL: ABC, Autism Pie, Bob Wright, Center for Developing Minds, ICM, Saban, SAG-Aftra;TRIBUTE BOOK: PCW Props, Shuman Management; MEDIA SPONSORS: ABC, Variety, INKIND: Foreo, MAC Cosmetics, One-Hope Wine, Penta Water, Runway Tech, Sevenly, Sprouts; GIFTBAG: Art by Luis, Designs by Siri, Lindamood Belle, Thikkun Spa