The South Florida community united against childhood cancer on Saturday, May 19, when 500 guests filled the Grand Ballroom at the InterContinental Hotel in downtown Miami at the 16th annual FedEx/St. Jude Angels & Stars Gala.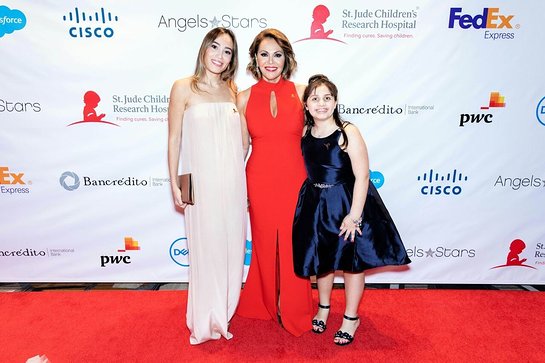 Philanthropists, influencers and celebrities gathered to honor the true stars — the patients and families of St. Jude Children's Research Hospital. The annual event, chaired by Javier Polit, President & Chief Information Officer for The Procter & Gamble Company, raised funds to help ensure families never receive a bill from St. Jude for treatment, travel, housing or food – because all a family should worry about is helping their child live.
Broadcast journalist, news anchor, and the author, called the "Voice of Hispanic America" by The New York Times, Maria Elena Salinas, received the 2018 "FedEx/St. Jude Angels & Stars Lifetime Achievement Award" for her outstanding citizenship to the community.
"I have always been on a mission to inform and empower my community, and now I am excited to be able to share the remarkable stories of bravery and inspiration from St. Jude as well, this is truly an honor I take with the greatest of responsibility," said Salinas.
Monica Rabassa, Vice President of Marketing & Corporate Communications from Univision Communications, also received an award for her longstanding commitment to the families of St. Jude. This event was co-founded in 2002 by model and entrepreneur Daisy Fuentes. Since that time, the Miami gala has raised more than $7 million.
"Events like these are so important as we continue to raise awareness and funds for our lifesaving mission all across the United States and beyond," said Richard Shadyac Jr., president and CEO of ALSAC, the fundraising and awareness organization for St. Jude Children's Research Hospital. "We congratulate both Maria Elena and Monica for their commitment to the patients and families of St. Jude and thank them for their continued support."
The gala had the support of some of television and music's most notable stars, including Victor Manuelle, Zuleyka Rivera, Ilia Calderon, William Valdes, DJ Mauricio Parra, Sebastián Villalobos, Jorge Bernal, Quique Usales, Boris Izaguirre, Marc Clotet, Candela Ferro, Khotán Fernández, Poncho de Anda, Maky Soler, and Federico Díaz among others.
This year's gala sponsors included: FedEx Express, Bancrédito International Bank, Salesforce, Pricewaterhouse Coopers, Dell Technologies, CISCO, Softtek, Carnival Foundation, AT&T, C-Comm Group, Accenture, Diario La Americas, Rana Furniture, Clarins and International Dermatology Research.